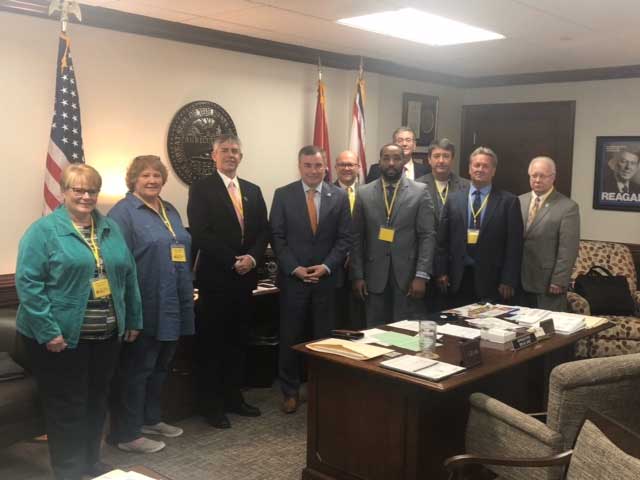 With Tennessee's underperforming public education system (most students are not proficient in reading or math) posing a threat to our state's economic future, a growing number of mayors are working together to expand and improve early education. Formed in 2018 by TQEE, the Mayors Coalition now numbers about 120 strong, representing communities that span from Memphis to Bristol.
It is a fact of life that to attract good paying jobs to our area, we must have a skilled workforce," said Big Sand Mayor Autumn Ratliff. "What many people don't think about is that building those workforce skills starts with development early in life through learning to read, solving math problems and learning how to get along with others.
Ratliff and other mayors are becoming fervent advocates for stronger early education policies and investment in programs to boost educational development for children ages birth to 5, the most critical years of human brain development.  The mayors are active in the halls of Capitol Hill in Nashville – in fact many joined TQEE for our Day on the Hill in February. And they play key roles to develop and support local early ed initiatives.
Joining Ratliff as new members are Linda Fultz (Harrogate), Margaret Feierabend (Bristol), Sarah Crocker (Brighton), Jeff Harris (Loudon), Gary Chesney (Morristown), Wade Carrington (Woodland Mills), Andrew Duggin (Woodbury), Karen Melton (Sunbright), Buddy Miller (Oakdale), Autumn Ratliff (Big Sandy), Roland "Trey" Dykes III (Newport), Joseph Hudgins (Sardis), and Odis "Clint" Abbott (Alcoa).
I strongly urge our state's leadership to continue supporting early literacy initiatives that will boost student learning and proficiency, said Gary Chesney, Mayor of Morristown. "I believe this program helps our young children to establish a firm foundation for their education journey. I believe we need to continue to improve the quality and expand pre-kindergarten programs across the state and support our teachers with quality training and coaching." (Citizen Tribune)
The growing mayors' coalition reflects the attitudes among Tennesseans that early education is a crucial building block.
About 93 percent of voters – 92 percent of Republicans and 95 percent of Democrats – believe that early education, from birth to third grade, provides the building blocks of all learning, according to our 2019 annual survey of Tennesseans' voters. Ninety-seven percent of voters say Tennessee should invest in early literacy programs to ensure children can read by third grade, and 93 percent want to invest more to establish math proficiency by third grade.
By wide margins, Tennesseans support expansion of Pre-K for all 4-year-olds (94 percent); increased funding for Pre-K (88 percent); higher investment for Pre-K classrooms for disadvantaged children (85 percent); spending for investment in improvements to Pre-K so that all classrooms are consistently high quality (69 percent); and expansion of Pre-K programs to counties that are economically distressed (91 percent).
You might also be interested in: Tennessee Voluntary Pre-K Study Policy Brief 
Posted: June 9, 2020 | Updated: August 1, 2023
View All