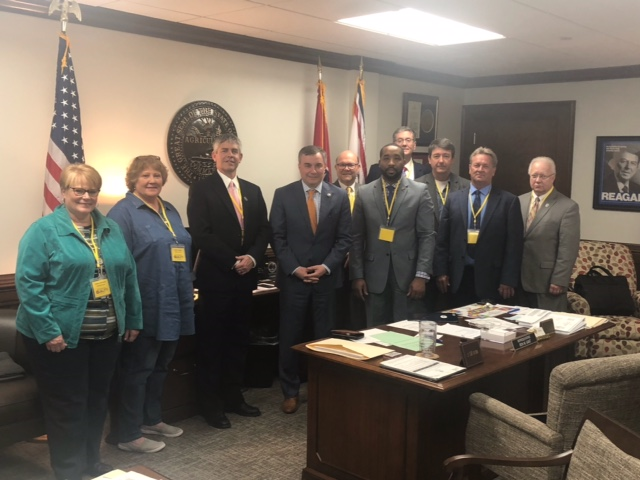 On February 19th, Mayors from counties across the state joined TQEE to emphasize the importance of policies that would allow for accessible and affordable childcare, expanded Pre-K and overall improved early learning. As Mayor Julian McTizic of Bolivar put it: "The future of our community and the future of our state depends on early childhood education."
Ninety advocates from across the state including educators, Pre-K directors, elected officials and parents, joined the Mayors Coalition to meet with state legislators and discuss the need for the following policies:
Expanded Pre-K to Rural Communities (HB1966 Haston / SB1947 Hensley): Expand TN-VPK to rural communities that have been classified as economically distressed and have quality VPK programs to ensure that one day every economically disadvantaged 4-year-old has access to high quality Pre-K
Child Care Task Force (HB2168 Hazlewood / SB2253 Haile): Create a Tennessee Child Care Task Force that will work over the course of a year to develop a strategic plan to improve quality, access and affordability of childcare programs and efficiently spend related federal funds. This will address a growing crisis encountered by working parents of children under the age of five to provide more quality, access and affordable options.
Ensure Communities Receive Funding Proportional to Local Need (HB2509 Hawk / SB2797 Akbari): Require the Department of Human Services to develop a plan to spend 100 percent of available Temporary Assistance for Needy Families (TANF) funds appropriated to Tennessee by the federal government in a "fair share" model. This will ensure that communities receive funding proportional to local need. The bill also requires the plan to emphasize before after and summer care programs that include an emphasis on literacy.
Lower the School Nurse to Student Ratio (HB653 Hawk / SB909 Southerland): Lower the school nurse-to-student ratio from 1-3,000 to a best practice ratio of 1-750, which will improve school attention to diagnosed chronic and other illnesses that contribute to high rates of absenteeism.
Our advocates emphasized the importance of these policies that will boost learning and prepare our children for future success. Not only do these policies give our children a stronger foundation for learning, but they carve a path towards long-term academic success.
The success of our Day on the Hill has been reflected in the legislative hearings around the bills we've proposed. Our Pre-K Bill, which will expand TN-VPK to rural communities, passed in the House K-12 Subcommittee and is scheduled to be heard by the House Education Committee. Likewise, the Child Care Task Force Bill will be heard in both the Senate Health and Welfare Committee and by the House Health Committee. We look forward to the possibility of the legislature returning in June so we can finish this important work
While we're pleased to have had such a successful Day on the Hill, we're poised to keep advocating for our children and making sure that they have more opportunities for academic success.
Posted: August 30, 2020 | Updated: April 10, 2023
View All