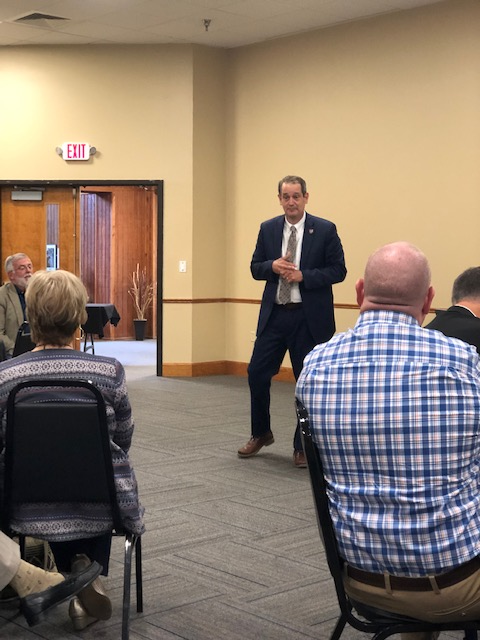 Mayors from West and Middle Tennessee gathered at Natchez Trace State Park in September to celebrate early education successes and learn more about the link between early education and a highly skilled workforce. Headlining the event was Tennessee's Commissioner for Labor and Workforce Development, Jeff McCord. Joining Commissioner McCord was Dr. Jared Bigham, the Senior Advisor for the Tennessee Chamber of Commerce's Rural Initiatives.
An avid fisherman, Commissioner McCord compared developing a highly skilled workforce for the good paying jobs in Tennessee to the mountain streams of his Upper East Tennessee home. McCord said our state shouldn't wait until young people are in high school or "downstream" to begin preparing them for the workforce. Instead, developing the skills for the jobs of tomorrow starts early in life, or "upstream."
Dr. Bigham, a former elementary school teacher and principal, also previously served as Executive Director of Chattanooga 2.0, a cradle to career initiative with a heavy emphasis on early education. Dr. Bigham highlighted how his role with rural workforce issues for the state chamber of commerce is a natural progression from his early childhood experiences. He stressed the importance of early literacy, but also the "soft skills" development that begins early in a child's life. Some of those skills include staying focused on a task, solving problems and getting along with others.
Mike Carpenter, Executive Director of TQEE, closed the luncheon with an overview of some of the legislative successes of the organization and priority issues in the coming year. Carpenter highlighted the struggles Tennessee has with early literacy and math proficiency, a problem affecting every Mayor's community. He pointed to the need to expand high quality pre-k to establish the building blocks for future growth in literacy and math before 3rd grade. Carpenter featured TQEE's recent Child Care Economic Impact study that clearly demonstrates how working parents and businesses across Tennessee are impacted by a lack of quality, affordable child care.
The primary message Carpenter and TQEE wanted to communicate is appreciation for the involvement of the mayors in the Mayors Coalition and that their engagement makes a difference. Carpenter recounted the dozen mayors who attended TQEE's Day on the Hill and others who called or email legislators prior to critical votes. He urged the luncheon participants to remain engaged and, if possible, deepen their involvement to improve the lives of young children in their communities.
You might also be interested in: Reading 360: Tackling Tennessee's Literacy Crisis
Posted: October 18, 2019 | Updated: August 1, 2023
View All