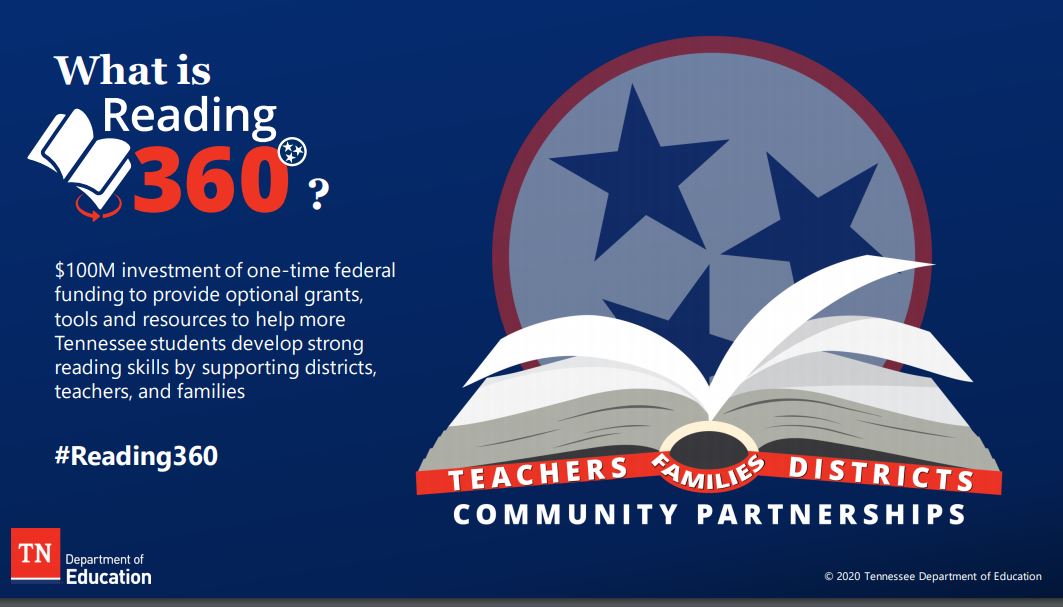 What is Reading 360?
Prior to the COVID-19 pandemic, only a third of Tennessee's 3rd graders were reading on grade level. To help tackle this crisis, the Tennessee Department of Education dedicated $100 million to an initiative called "Reading 360" to help school districts, teachers and families help struggling Tennessee students learn to read.
Read more about it in The Tennessean.
Reading 360 is a comprehensive literacy initiative that leverages approximately $60 million of one-time federal COVID-19 relief funding and $40 million in federal grant funding to provide optional grants, tools and resources to help more early and middle-grade Tennessee students develop foundational skills, strong phonics-based reading skills and achieve literacy success by supporting districts, teachers, families and communities.
The Reading 360 program's emphasis on phonics is rooted in The Science of Reading approach – a research-based method of teaching children phonics and how to decode the structure of a word in order to read it correctly. 
The effort will provide optional training and materials to Tennessee educators and resources so districts can collaborate on how best to teach foundational literacy. The program will also include resources for parents and guardians, like the new "Ready4K" text-messaging program that sends daily learning tips to parents of students in grades pre-K through 3. 
The initiative has 8 major components which are optional and provided at no cost for teachers, districts and families. Those include:
Training & Coaching – Provide additional support for both teachers in classrooms and future teachers around foundational literacy instruction.
Implementation Networks – Establish and fund regional district networks focused on literacy and high-quality materials.
Online Tool – Feature video-based lessons, teacher implementation supports, at-home family reading resources, and leader guidance documents.
Connected Literacy – Provide 13,000+ students and their families with micro-grants for early literacy tutoring.
Educator and Leader Preparation Innovations – Support for educator and leader preparation providers in developing new courses and content.
CORE supports – Provide district leaders with support for the implementation and establishment of systems across 8 CORE regions.
Assessment of Literacy – Connect teachers, leaders, and parents to resources, tools, and data using early grade literacy screener and information system.
Public Awareness Campaign – Build and foster partnerships across the state to elevate awareness and promote broader engagement.
You can find more details about Reading 360 HERE.
Over the last two years of Reading 360, Tennessee has trained over 20,000 elementary school teachers in "sounds first" instruction. If you would like to learn more about what the training looks like, you can find information HERE. 
What is the TN Literacy Success Act?
While Reading 360 is an optional program for Tennessee educators, the Tennessee Literacy Success Act is a shift in state education policy toward a focus on a phonics-based approach also rooted in The Science of Reading. The TN Literacy Success Act lays a policy foundation in Tennessee to ensure every student builds strong reading skills grounded in phonics, and every educator is supported with training and resources to become a strong literacy instructor.
You can learn more about the specifics of the Tennessee Literacy Success Act HERE.
Why Reading Proficiency by Third Grade Matters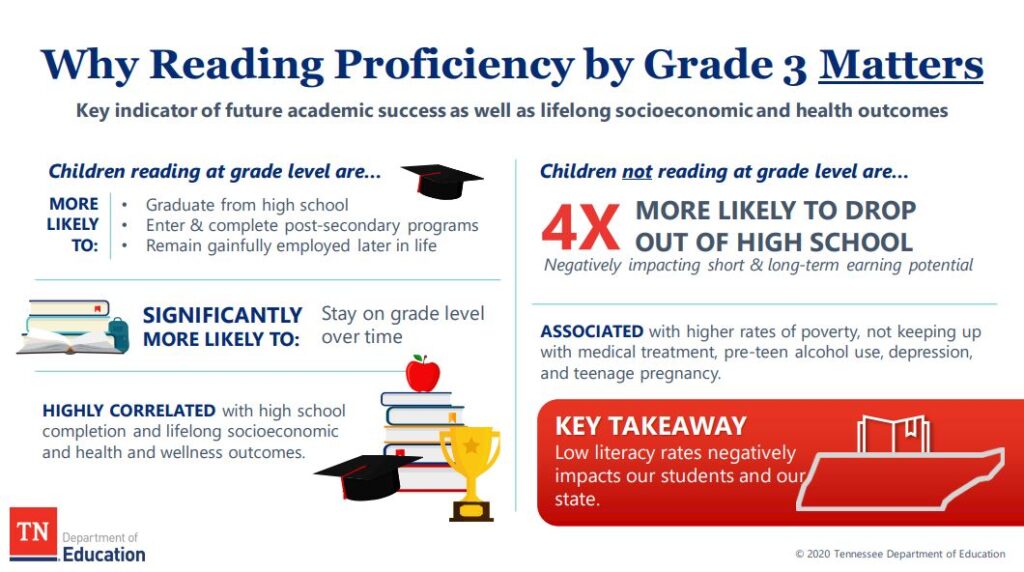 We're excited about this new treasure trove of resources to support struggling early learners, their teachers and parents, and we applaud the TDOE team for the terrific work in developing and launching Reading 360.
Sources: 
https://journal.imse.com/what-is-the-science-of-reading/
https://tennesseelookout.com/2021/01/19/gov-bill-lee-backs-phonics-based-approach-to-reading-in-latest-education-battle-royale/
Posted: April 14, 2023 | Updated: June 14, 2023
View All