TQEE actively supported the Lee administration's education proposals during the special session as a strong and important start for addressing the literacy crisis and education-related challenges laid bare by the pandemic.
With nearly two-thirds of Tennessee's third graders not proficient in reading and math – a number that has likely worsened due to the COVID-19 pandemic – improving early education is an urgent priority.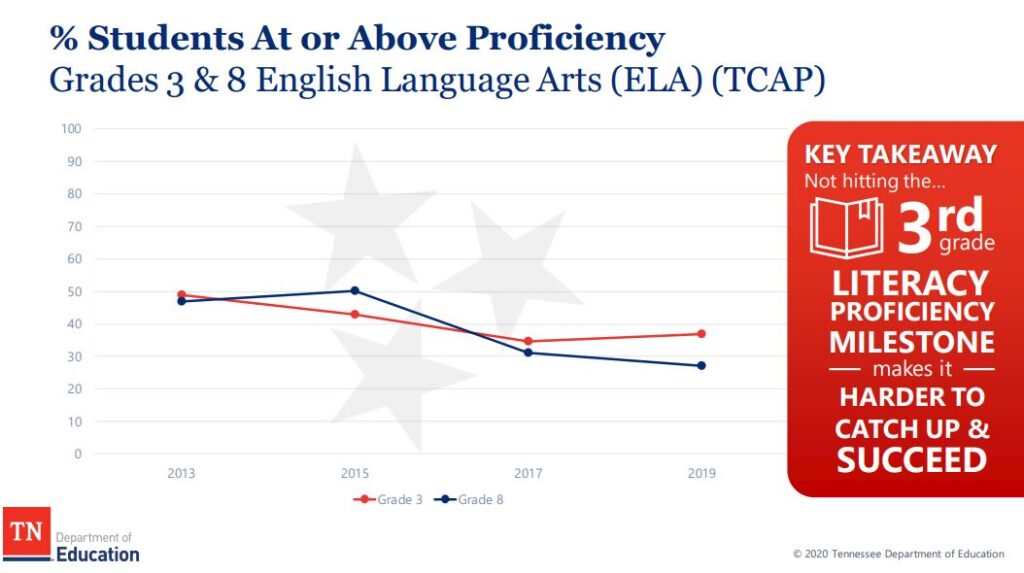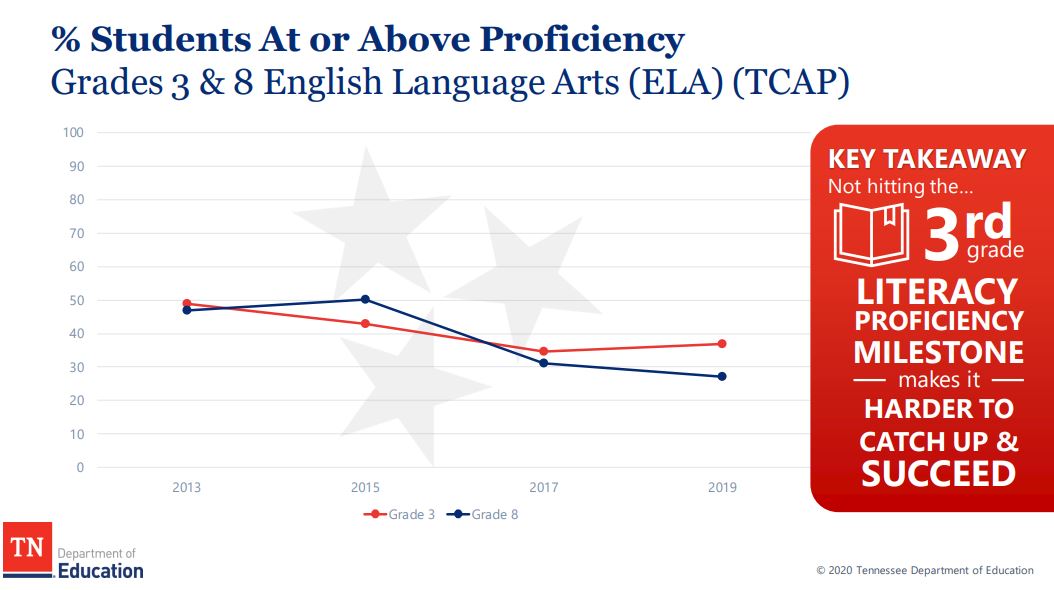 Third grade is widely acknowledged as a critical benchmark year for future academic success. Yet far too many Tennessee school children reach third grade significantly behind and most of those children never catch up. Data and evidence overwhelmingly show a connection between third grade reading proficiency and future academic success.
Like applying bricks and mortar when building a house, all learning builds on prior learning. The first eight years are especially crucial. TQEE supports policy proposals that help ensure our children have the early learning foundation needed for future success in school and life.
Below is a summary of the bills that were enacted during the Special Legislative Session on Education week of January 18th, 2021, and information about the department of education's new Reading360 initiative.
SB7001/HB7003 (Johnson/Lamberth) Accountability to Inform
Requires that the 3rd-12th grade TCAP tests be administered as usual so we have visibility into learning progress or losses and can adequately meet their needs; although does not require districts to administer the usual portfolio assessments for pre-k and k.
Extends hold harmless provisions so that TCAP results, and portfolio assessments that districts opt to administer, can't adversely impact student grades, teacher evaluations, and school and district report cards.
SB7002/HB7004 (Johnson/Lamberth) Intervening to Stop Learning Loss
Provides opportunities for students to participate in after-school learning mini-camps, learning loss bridge camps, and summer learning camps emphasizing literacy and math instruction. Targeted toward students who score below proficient in math or ELA, students who attend a school where less than 50% of students are proficient in math or ELA, students eligible for TANF benefits, or students who score below proficient on a department developed or state board approved screener. Each program is targeted toward a specific grade-band:

After school learning mini camps: Students who have completed grades K-4 (2021, 2022)
Summer learning camps: Students who have completed grades K-4 (2021, 2022)
Learning loss bridge camps: Summer of 2021, 2022 for students entering grade 6-8; and Summer 2023 and each summer thereafter for students entering grades 4-8.

Requires measurement of student progress in those camps and offers free assessment tools for that purpose.
Provides TDOE created prep courses and professional development for instructors, and stipends of at least $1000/week.
Establishes a new Tennessee Accelerated Literacy and Learning Corps (ALL Corps) of high-quality tutors.
Strengthens the state's 3rd grade reading retention law by requiring students are reading on grade level before progressing to 4th grade. Beginning in the 2022-23 school year, students with 3rd grade TCAP results indicating nonproficiency in English language arts (ELA) will be retained unless certain conditions are met including demonstration of proficiency by retesting, participation in a learning loss bridge camp, and/or is provided a tutor through the TN ALL Corps for the entirety of 4th grade.
SB7003/HB7002 (Johnson/Lamberth) Building Better Readers with Phonics
Requires LEAs (school districts) to use foundational literacy skills for early literacy instruction — a method solidly backed by research as the most effective way to teach reading to early learners — and to develop a Foundational Literacy Skills Plan to improve literacy outcomes. Additionally, the universal reading screener can be used as an approved alternative to portfolio assessment for grades pre-kindergarten-2nd grade.
Requires LEAs to use a locally-adopted reading screener for all students in grades K-3, three times a year, to identify when students need more support; and it provides the new Tennessee universal reading screener to districts free of charge.
Requires LEAs to provide reading supports and interventions for each student identified as having a significant reading deficiency, including a) notifying parents if students are deficient, b) providing literacy reports after each administered screener, and c) providing interventions that parents may use at home to support reading proficiency.
Teachers in kindergarten-5th grades must complete at least one professional development course on foundational literacy skills approved by the department. The department will develop at least one professional development course to fulfill this requirement to be made available at no cost.
Educator preparation providers (EPPs) must provide training on reading instruction focused primarily on foundational literacy skills standards to new teacher candidates seeking licensure to teach kindergarten through third grade.
Any individual who teaches or seeks to teach kindergarten through third grade must pass a Tennessee reading instruction test or complete a foundational literacy skills instruction course (which is provided at no cost) to receive, advance, or renew their teaching license.
The appropriations / fiscal notes for the bills included:
General Fund: $67,331,900/Each Year FY20-21 and FY21-22; $25,506,400 FY22-23 and beyond
LEAP:  $13,741,200/Each Year FY20-21 and FY21-22
TANF:  $35,746,900 in each year FY20-21 and FY21-22 and $11,246,400 in FY22-23 and subsequent years.
ESSER 2.0: Up to $3,000,000 to implement the Innovative Benchmark Assessment Pilot Program.
Reading 360
Finally, as a complement to the legislative package, the department of education announced its new $100 million Reading360 initiative. The effort will provide optional training and materials to teachers, and resources so districts can collaborate on how best to teach children to read. The program will also include resources for parents and guardians, like micro-grants to pay for tutoring and the new "Ready4K" text-messaging program that sends daily learning tips to parents of students in grades pre-K through 3rd. 
The legislation and the Reading360 initiative are a fantastic start.  
But far more is needed  — during the elementary school years as well as prior to kindergarten beginning at birth — to ensure our children achieve that crucial milestone of 3rd grade reading and math proficiency.  
Children are born learning. In fact, the brain develops more in the first five years than at any other time during a person's life. Deficits in early literacy and math skills have been documented beginning at 9 months and widening from there along family income lines. Studies have repeatedly shown that investment in quality early education are more life- and cost-effective than later remediation.
The "The Heckman Curve", by Nobel Laureate Prize-winning economist James Heckman, shows clearly how investments in the early years have by far the greatest return. Particularly for disadvantaged children, early education can have returns as high as $7 – $13 for every $1 invested.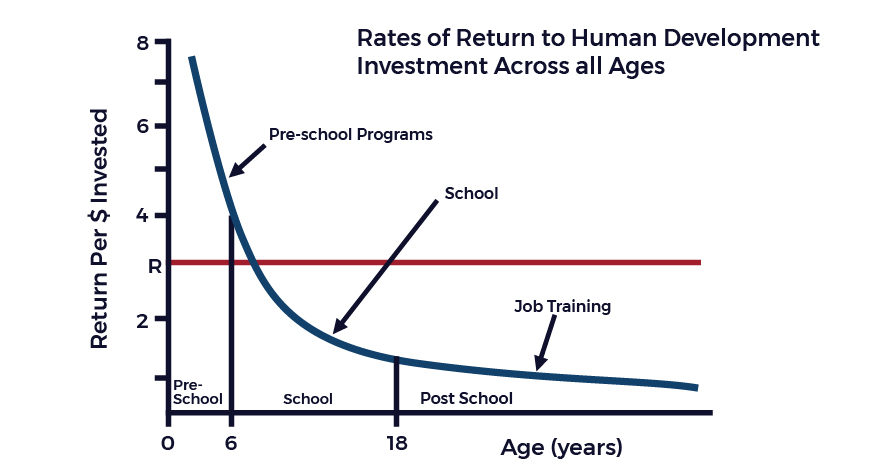 The data and evidence are overwhelming. Academic achievement and life success require a strong early learning foundation, from birth through third grade. 
That's why we must, with urgency, ensure access to critical early childhood care and education programs –such as high-quality pre-k, affordable and high-quality child care, evidence-based home visiting services, and health and mental health care — for all Tennessee's economically disadvantaged and otherwise at-risk young learners.
Posted: February 13, 2021 | Updated: August 10, 2023
View All