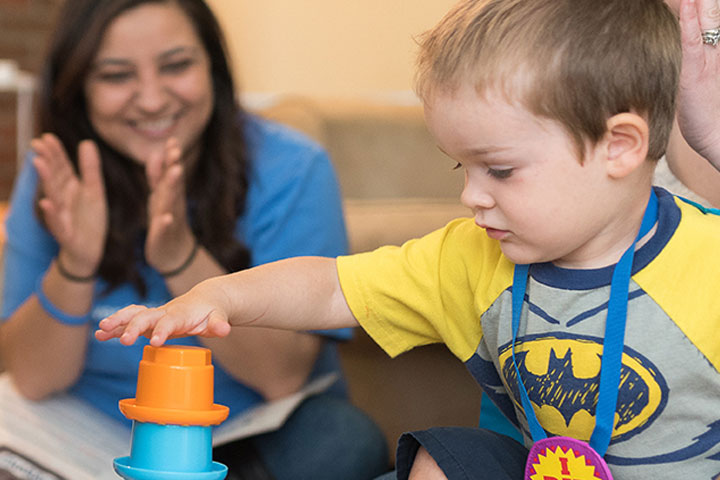 TQEE has been among the state's strongest advocates for expanding Evidence-Based Home Visiting (EBHV), a best practice in early childhood development which has repeatedly proven to strengthen parenting skills, reduce abuse and neglect, and get children ready for school.
In addition to the well-documented positive impact on lives, the program generates savings for taxpayers up to $5.70 for every $1 invested through reduced costs associated with child abuse, poor health and academic failure, and a corresponding increase in economic self-sufficiency.
Furthermore, EBHV is one of those rare strategies which has become even more effective during the COVID-19 pandemic, with many reports from EBHV providers of improved quality and efficiency through incorporating telehealth and virtual visits.
For all those reasons, we want to take a moment to celebrate a momentous expansion in the program that took place last month with little notice or fanfare.
On October 5th, 2020 the Finance Committee Chairs of the Tennessee General Assembly signed off on a request by the Governor Bill Lee administration to effectively double the state's evidence based home visiting budget – authorizing the Tennessee Department of Health to tap $14,052,600 annually from the state's unused appropriation of federal Temporary Assistance for Needy Families (TANF) funds.
In addition to the Governor Bill Lee administration, leading the recent charge to expand this high impact but under-utilized program have been members of the General Assembly, including especially Rep. Ryan Williams (R-Cookeville), Senator Bo Watson (R-Hixson), and former members Rep. Bill Dunn (R-Knox) and Sen. Steve Dickerson (R-Davidson).
Through budget amendments they championed in FY19 and FY20, the state's general fund commitment to the program was expanded by $2.45 million with broad bi-partisan support of the Tennessee General Assembly. And it's in large part due to that momentum that EBHV was an obvious choice for use of the TANF funds after the October 2019 revelation by the conservative Beacon Center of Tennessee that the state's TANF surplus had grown to $732 million.
We agreed then with Beacon Center's Stephanie Whitt that the growing surplus is concerning and a plan is necessary to channel funds to Tennesseans who need a leg up. And we agree today, especially given the ravages of COVID-19 on many Tennessee families, that there must be both a plan and urgent action for deploying the surplus (now at $741 million) and the future annual TANF block grants (roughly $190 million).  
There are three major guiding principles we recommend for ensuring highest and best use of TANF and other underutilized federal funding streams such as CCDF toward greater economic participation and growth for Tennessee.
Approach investments as an economic growth strategy. There's significant evidence that increases in income, particularly for low-income families, are good for the economy. More income leads to more consumer spending which is a key driver of economic growth, tax revenues and job creation. Strategies should be highly strategic, should engage the business sector, and should be tied to specific goals for ROI.
Invest in the early years. There is a substantial and ever-growing body of evidence, from neuroscience and child development (Shonkoff 2006), as well as from long-term evaluation studies (Duncan 1997), that "success builds upon success," and the start children receive in life sets them on a pathway to achievement both in and out of school (Schorr 2007). Assessing this literature, Nobel Laureate in Economics James Heckman points out: "The highest rate of return in early childhood development comes from investing as early as possible, from birth through age five, in disadvantaged families. Starting at age three or four is too little too late, as it fails to recognize that skills beget skills in a complementary and dynamic way. Efforts should focus on the first years for the greatest efficiency and effectiveness. The best investment is in quality early childhood development from birth to five for disadvantaged children and their families." And clearly, with roughly 2/3rds of Tennessee's 3rd graders not proficient in reading or math, we need greater focus on the years prior.
Use "2 Generation" approaches. A critical factor in the success of children is the well-being of their families. Research indicates the benefits and positive outcomes of strategies which intentionally and simultaneously support children and the adults in their lives together. Child and parent focused approaches might include, for example, a combination of workforce programs, high quality child care, food and nutrition, family literacy, parenting skills and healthcare and mental health care. A cost-effective, high impact initiative will intentionally prioritize resources to support children, siblings and parents from the same at-risk families.
We owe thanks to the Lee administration and General Assembly for seeing the wisdom of making this meaningful investment in EBHV and for doing it now.  It is a step in the right direction, but EBHV is one of many solidly proven strategies for effectively giving families a hand up so that they too may participate in Tennessee's prosperity.
It's time for us to chart an urgent course to more effectively deploy these underutilized revenues so struggling families and children have better and more opportunities to thrive.
To read about the human side of EBHV, check out some of these stories about the experiences of Tennessee families whose lives and futures have been improved.
Posted: November 21, 2020 | Updated: August 10, 2023
View All