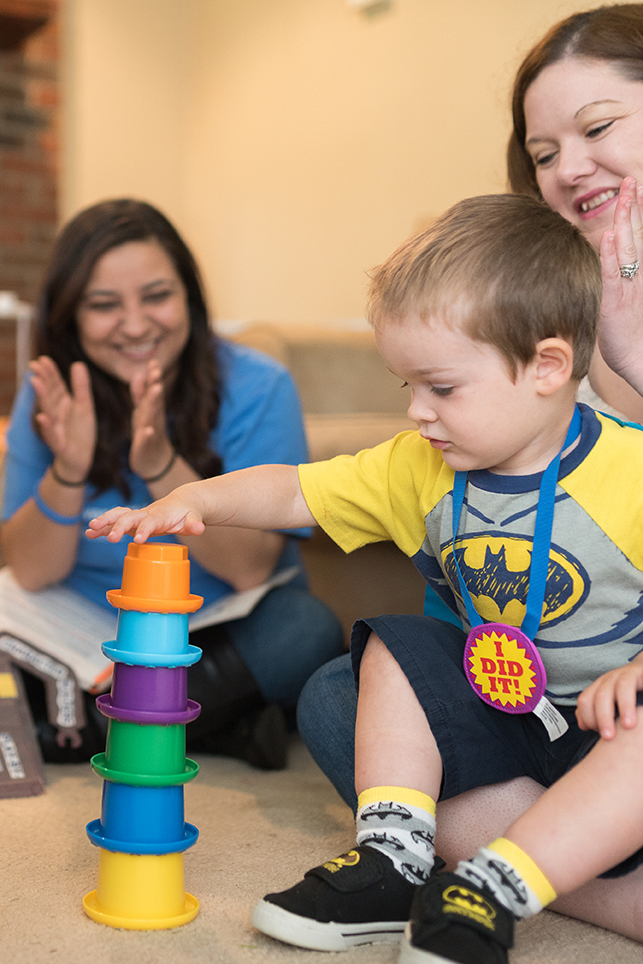 Sometimes a picture says a lot.
Hunter is building a tower out of colored blocks with his mom and his friend Tevri at home. It's a photo that was years in the making, in part because of his involvement in one of Prevent Child Abuse Tennessee's most successful development programs.  The "I did it" badge he's wearing reflects the confidence and accomplishment Hunter has experienced through his family's participation in the program.
After she became pregnant, Hunter's mother Tyne was referred by a friend to Healthy Families Tennessee, a home visiting program that provides weekly support for parents from pregnancy through when their child enters kindergarten. That's how she met Tevri, a PCAT visitor.
"[Tevri] would just come once a week and she would go over where I should be at in my stage of pregnancy and just help me get ready for the baby," Tyne says. "And then after Hunter was born, she would still come by on a weekly basis and teach me about his milestones."
As Hunter got older, Tevri would mark his progress on everything from word acquisition to motor skills, often working with Hunter outside, drawing shapes with sidewalk chalk and mastering colors. The program provides what Tyne calls a "full spectrum," helping her son master everything from letters and numbers, to recognizing emotions, to how to deal with them effectively.
Healthy Families is an evidence-based home visiting program (EBHV) that provides support during one of the most important periods in a child's life, birth to age 5, when 80 percent of brain development occurs. Getting the right start is crucial, because healthy brain development is essential for later learning and health. Research on home visiting program shows it improves maternal, newborn and child health, reduces child maltreatment, improves parenting skills, improves school readiness.  And these programs are backed by compelling proof of a strong ROI: it gets returns of up to $5.70 in taxpayer savings for every $1 invested through reduction of costs for remedial education, child protection and criminal justice.
The program also gave Tyne and her spouse effective coping techniques, something she says she never learned growing up.
"We learned a lot of stuff as a family, but also my husband and I learned a lot as a couple," she says. "The main focus was on being a healthy family as a whole, but it also helped me and my husband because, I'm sure you know, husbands and wives have stupid fights over stupid things."
Hunter's success in the program will lead to his graduation in December. Tyne says he's currently on the letter "G" and in the advanced part of his daycare class, in part because of the leg up that Healthy Families Tennessee and Tevri gave him. As he approaches his fourth birthday, the Paw Patrol-obsessed Hunter even likes a little homework.
"It's crazy, I know," Tyne says. And then you begin to realize why he got the "I Did It" button in the photo.
The program has had such an impact that Tyne has even become an advocate for PCAT, speaking before the state legislature about her experiences.
"I actually highly suggest it to any of my friends that I know that are going to have a baby," Tyne says. "I recommend it any time that I can because the benefits that we have received through Healthy Families have just been amazing, and I honestly, I don't know where I would be at without the program."
Today, Tennessee only supports programs like this in about half of our 95 counties.  We can do better!  Stay tuned for emails that let you know when and how to share your voice of support with our elected leaders!
By Mike, Lisa and the TQEE team
You might also be interested in: 27 Tennessee Mayors Join Early Childhood Coalition
Posted: November 12, 2018 | Updated: June 27, 2023
View All