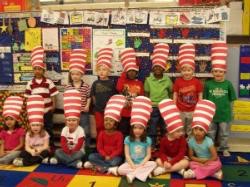 How does Pre-K impact the lives of the children and families that participate? A group of Wilson County parents recently wrote letters to Lebanon Special School District leaders with their enthusiastic description of how the experience has advanced their children's development and prepared their children to succeed when they attend kindergarten.
"My kids attending her class drastically impacted every part of [our twins'] lives and it is even more evident now that they are in Kindergarten," wrote one parent. "They are both in the top percentages in their class and in the advanced reading groups. We are beyond grateful that our children were able to attend Pre-K and the positive influence from Mrs. Mandy (Pittman) on their education is immeasurable."
This Lebanon parent, in a note to the Castle Heights school, said that Pre-K helped children overcome the separation anxiety that can come from being a twin.
High quality early education has been repeatedly shown to help children, especially economically disadvantaged children, close skill gaps and become "kindergarten ready," both academically and emotionally.
Kristen Griffin, whose daughter attends Coles Ferry, echoed this sentiment regarding her daughter, Raegan.
"Raegan would come home most days bragging with excitement about what new project they were working on, the new sounds and shapes she recognized and all the fun activities they had done to make learning fun," Griffin wrote to Lebanon School District officials. "She went in a great kid but came out an even greater kid with more confidence than ever and a passion for learning in the classroom. Going into kindergarten this year, she is reading above average and is excelling in math. We couldn't be happier with our pre-K experience."
Dr. Penny Thompson is instructional coordinator and director of Pre-K for Lebanon Special School District. She's thrilled with the accolades from parents as they affirm the district's high quality early education program.
"This response speaks highly of our teachers and program," Thompson said. "We have teachers working effectively with students and their families so that children are successful in their educational career. Our program supports teachers, students and families. That approach facilities the excellent education that these students are getting."
A Vanderbilt study in 2015 confirmed what Tennessee Pre-K teachers had been seeing for years: children are better prepared for kindergarten by attending Pre-K, academically and emotionally.
"Before Pre-K, my daughter was not used to being around children her age," wrote Alejandra Vega-Rojas. "Being in pre-K with children her age taught her how to express her feelings, sharing and caring for others. It taught her how to be more independent. Most importantly, it prepared her for Kindergarten. My daughter attending pre-K was such an important start for her education."
Tennessee's voluntary Pre-K program serves approximately 18,000 children — roughly 42 percent of disadvantaged four-year olds — a number which has remained stagnant since 2007-8, even as wait lists in some districts continue to grow. Parents understand the value. A TQEE poll in September found that 94 percent of parents think voluntary Pre-K should be made available to all four-year-olds.
Kelly Norton's children have seen the benefits, too.
"I started working with him when he was three years old because it was recommended for him to attend a pre-K program. He was behind, developmentally, and his pediatrician thought pre-K would be the best course of action," Norton wrote. "I could tell my son was making progress, but at some point, something just clicked with him. He started to communicate with everyone at home better. He would tell me what he wanted. He would tell me about his day. He would tell me about his classmates, he even went so far as asking to go to birthday parties and friends' houses. I believe that my son being in the pre-K program has a lot to do with his progress."
And now that her second is in the same program, she's experiencing the same results.
"My daughter has been attending pre-K for three months now. Since she started, I have noticed her verbal skills getting better and her making friends. This was a big deal to me as she has always been very shy and timid," Norton wrote. "I believe this program is a wonderful thing for young children. On an educational level, this is such a phenomenal program, as they do the testing to make sure kids are developmentally on track and then address any issues a student may have. This pre-K program is the best foundation for any child."
You might also be interested in: Tennessee Voluntary Pre-K Study Policy Brief
Posted: December 14, 2018 | Updated: June 27, 2023
View All