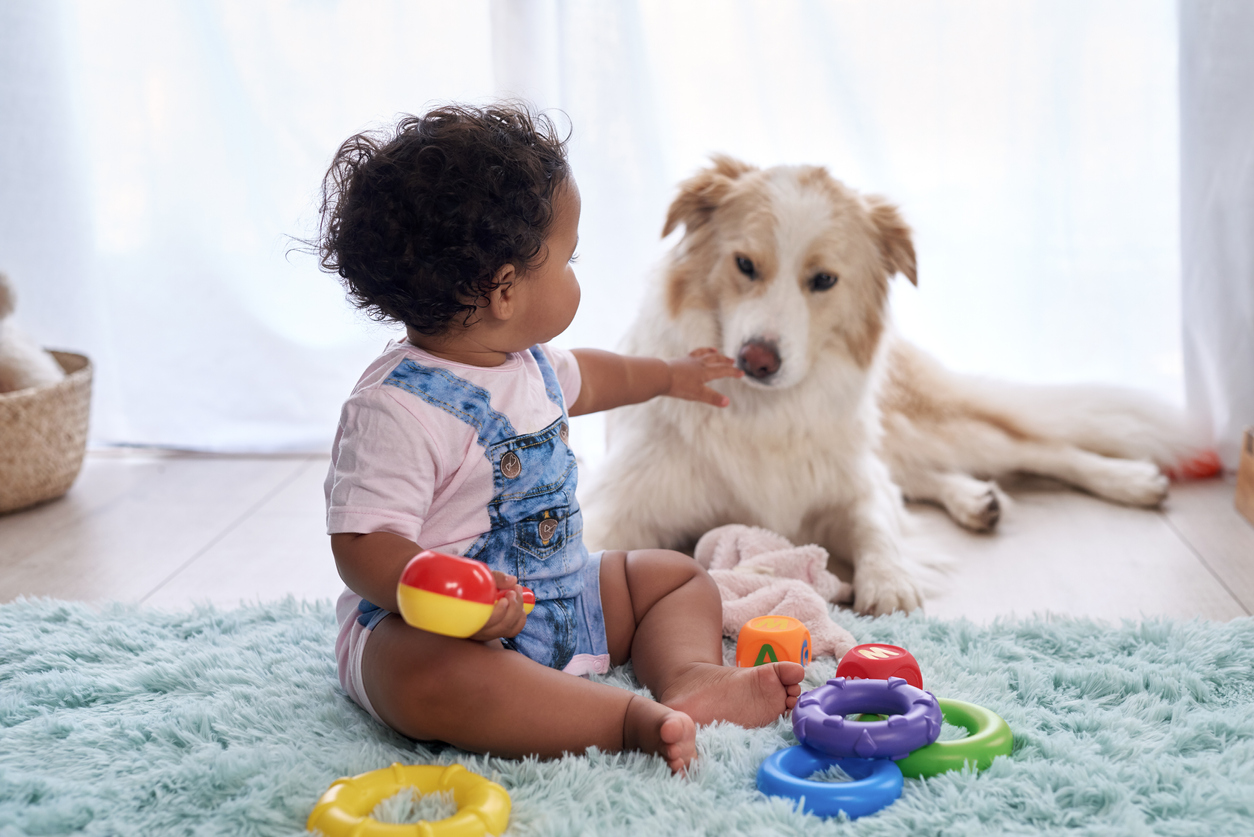 Boost your baby's brain power through play!
Your baby is amazing!  Did you know that 80% of her brain growth will happen by about age 3?  
And you and your family hold the key!  Your caring interaction with your infant – such as cuddling, playing, singing, counting, smiling – is the best tool for stimulating healthy brain development.
How do you do it?  The Basics are five simple and powerful ways you can help your child get a great start in life. And they don't cost a thing!
But when you're ready for a little baby gift retail therapy, we've got some tips for that too!
TQEE loves books, toys, games, and gadgets that boost learning and bring joy to little learners and their families!  On this page you'll find some great items that our team has selected based on what's popular and trending out there, and especially based on what our experts know will be good for your baby's brain!.
If you're inclined to buy something, your purchase will help our important advocacy work on behalf of early childhood education here in Tennessee.  Amazon will share a small portion of the proceeds with TQEE for any item purchased from the links below. If you do buy here, THANK YOU on behalf of Tennessee's youngest learners!  You'll be helping us advocate for things like:
– High quality affordable childcare,
– Investing in our early grades teachers, and
– Providing excellent Prek programs.
Now, on to the baby gifts!
This baby toy helps babies develop spatial awareness while teaching them about colors, shapes and basic counting. The colorful design encourages imaginative play and the wooden blocks are safe for chewing on. Recommended for babies 10 months and up.
Click Here to Get it on Amazon.com Now For Just $19.99
A Parent's Review:
When I reviewed this I was beyond elated!! When my 19 month old opened it his reaction matched mine. This is a VERY heavy and sturdy HIGH quality wooden toy! I can not stress that enough. For those of you who may be familiar with Melissa and Doug wooden toys this you reminds me greatly of their wooden toy line except this one is better!!! I love that it is educational as well. My little man has had so much fun "counting" the beads and playing with the wooden shapes. I am thinking of buying a few more to keep as gifts for nieces ect. You will not regret this purchase." – Laci
Take fun and learning on the go with this spiral car seat activity toy. The spiral design wraps around the handle of your infant carrier and provides baby with toys and a mirror, making it one of the best baby toys to take and play wherever you may be. Recommended for newborns to babies 6 months old.
Click Here to Get it on Amazon.com Now For Just $10.88
A Parent's Review:
This is the best toy ever! I bought a pink and blue one for my twins when they were born. It took a while for them to start looking and playing with them, but once they started, they loved them. For those who say it's too tightly wound, it eventually loosens up. In fact, now after 8 months my babies can easily pull it off which I'm guessing is how we lost one and why I'm back to buy a replacement. It says to wipe the surface for cleaning and my babies are always sucking on them, so I wish I could throw it in the wash, but I just use my garment steamer to "sterilize" it. Oh, and one final thing. Even though all the pictures show it wound across the car seat, I hang mine down from the center which makes it easier for the babies to grab and play. In fact I use the little ball end to hook around all sorts of places including their highchair tray." – Dennis
This plush fish is one of our favorite toys for babies! It's designed to intrigue your little one while helping them develop motor skills and more. The washable fabric toy is made of different fabrics and hidden features like mirrors and crinkling components to keep baby's interest. Recommended for babies 1 month old to toddlers up to 3 years old.
Click Here to Get it on Amazon.com Now For Just $17.00
A Parent's Review:
"My daughter loves this activity center and has been able to use it since she was about 4 months old. I love that it has a slightly more modern design, doesn't take up a lot of space, and is easy to clean." – Jenna
This cool, cozy activity chair is outfitted with educational sensory toys for infants, and it's made of firm but soft foam that will support your little one comfortably. The removable tray has toys that squeak, crinkle, reflect and rattle to keep baby busy and teach them about texture and sound.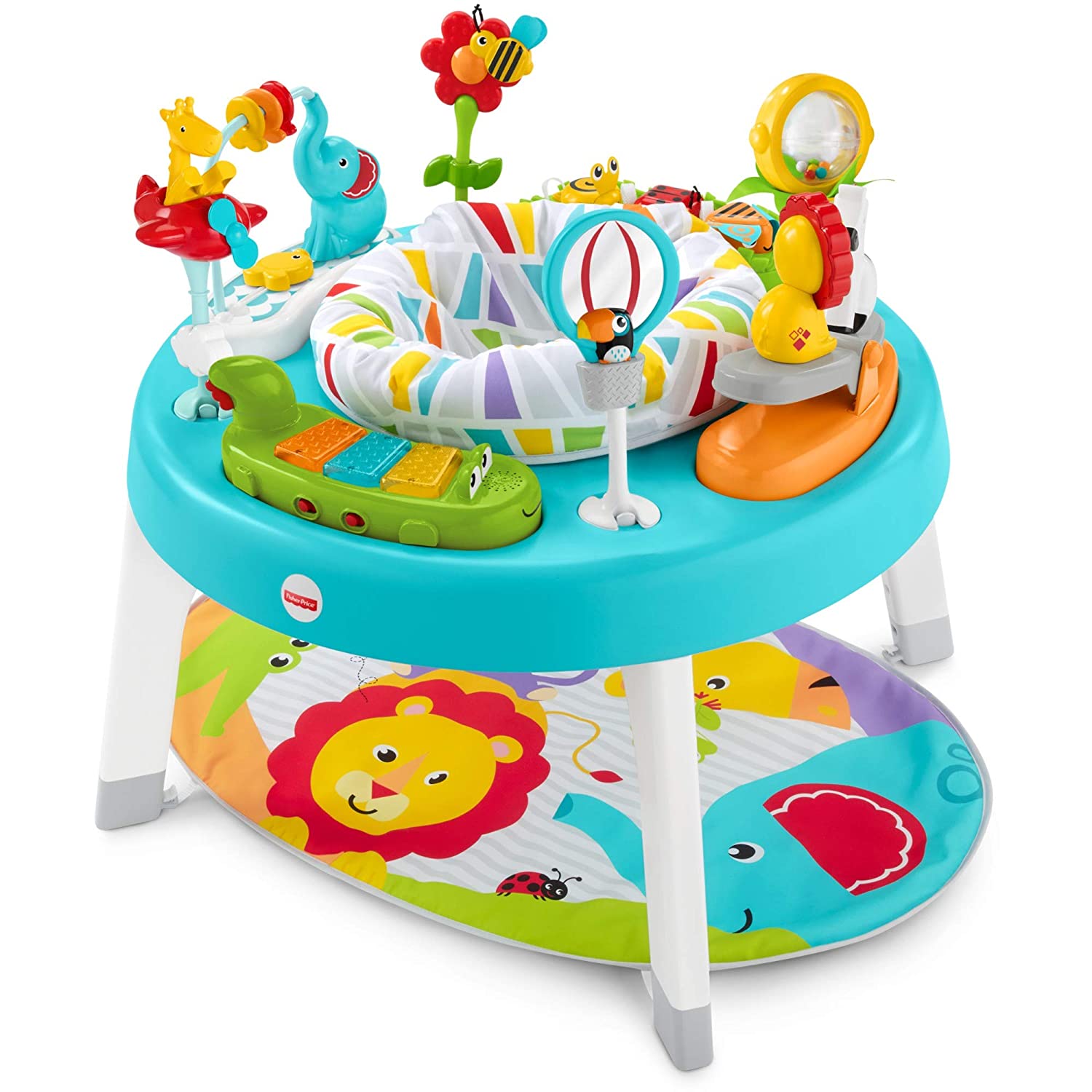 A Parent's Review:
"It took me about 10 minutes to assemble with the "help" of my 3-year-old. My 7m old had fun playing with the light up piano while I quickly put it together. He LOVED it instantly! Tried to eat it, pulled himself around by grabbing onto the toys as he is still a tad too short on the lowest setting to turn with his feet. He's tiny so an average sized baby would be just fine by this age. I love that its smaller than the exersaucer we replaced and can fit through the doorway. Good quality and very nice! LOTS of toy options!" – Katy
The best infant toys are the classics, like a baby gym activity center than can be placed on your floor. Reaching for toys builds baby muscles and helps develop hand-eye coordination, and these adorable plush toys are outfitted with bells, a mirror, a rattle and more to teach baby about sound, space and texture all in one. Recommended for newborns up to 6 months.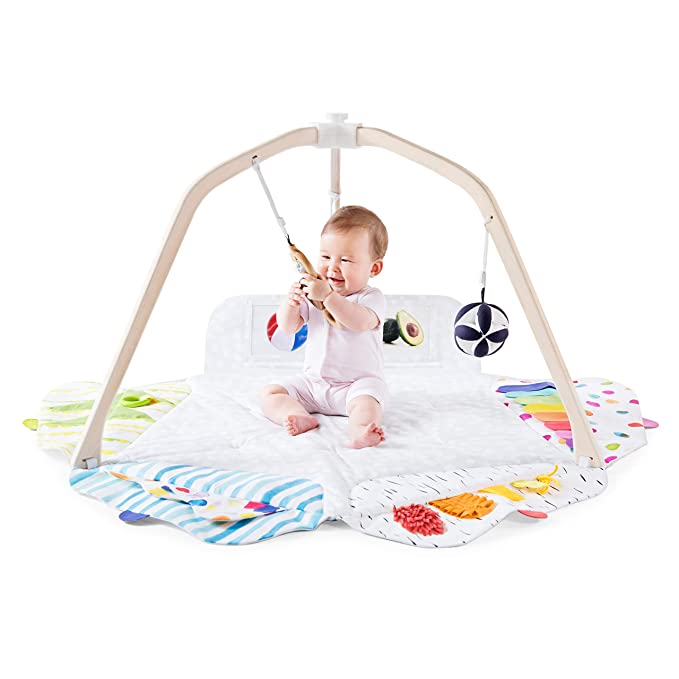 A Parent's Review:
"Love this play gym! It's so stylish and easy to use. I have just washed the mat for the first time and no fading whatsoever! It's a bit pricey but would highly recommend! The only negative is that when you put the cover on the top you can't see the colourful side flaps." – Sharo Renton
You can check fitting things together off baby's "to-learn" list, thanks to this adorable personalized puzzle — not to mention you'll give them a head start on learning how to spell their name! The best educational toys span all ages and abilities. Recommended for babies and children up to 5 years old.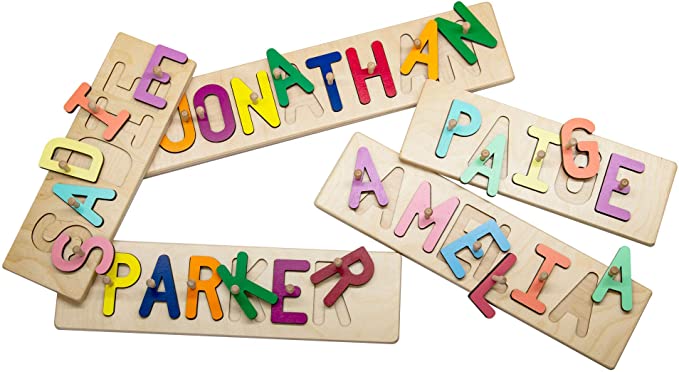 A Parent's Review:
"This product is WONDERFUL! Very high quality and craftsmanship goes into making this adorable wooden name puzzle! We purchased this as a birthday gift for our neighbors' son and everyone seemed to love it!! One of my favorite parts was the personalized notecard that is signed by every person who touched or had anything to do with the project's completion, it was a wonderful touch to remind people of the great thing about buying products that are made in America! Would most definitely recommend this product to others!!!" – Jesse Weaver
These are one of the most popular baby toys, and for good reason—they're also one of the best development toys for babies! Help your little learner improve their fine motor skills and problem-solving skills with this adorable block and basket set. This toy also introduces shapes and colors and is easily stored. Recommended for babies 6 months and up.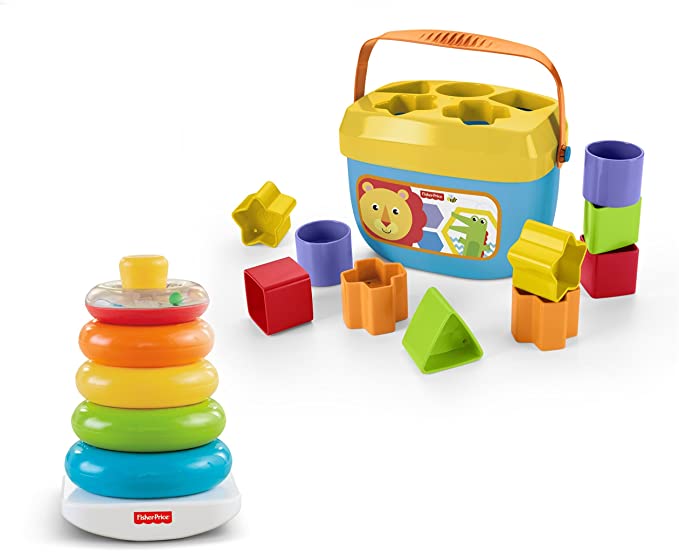 A Parent's Review:
"My 10 month old granddaughter loves the stacking rings. She doesn't understand, yet, about how to sort the blocks and fit them in the correct ones. When she's a little older, I'm sure we'll have fun with them. I believe that you'll need a brush, for cleaning the blocks set, to get into the tiny corners and cracks to make sure they get really clean. The stackable rings have tiny holes in everything, so you have to be careful not to have them laying in the water, because they'll be very difficult to get completely dry. I'm afraid that it could cause mold." – Vickie
This classic bead maze makes our list of top baby toys for it's timeless brainpower-building capabilities. The moving parts encourage your little one to learn about colors, shapes, movement and space. The durable wood build means it will last for years to come. Recommended for babies age one and older.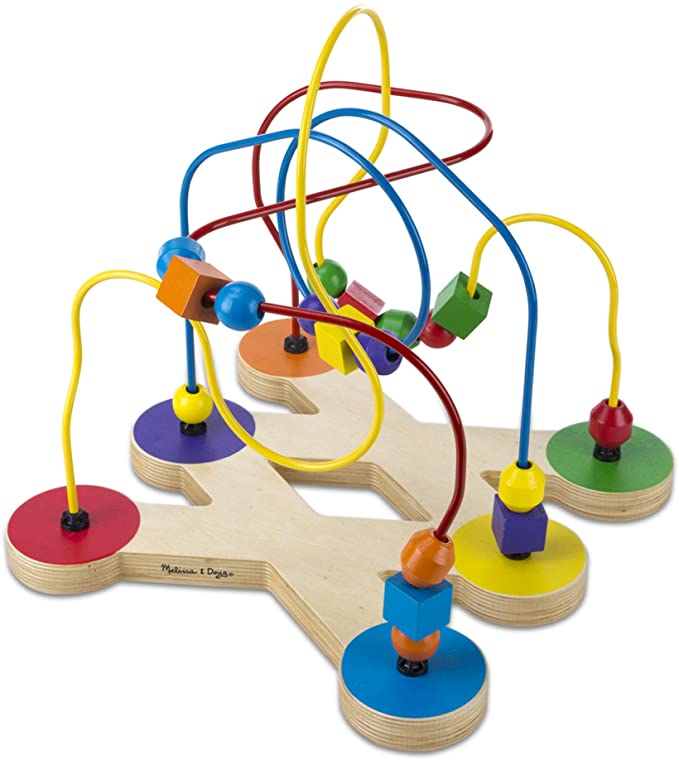 A Parent's Review:
"Great size, lots of fun. Color beads correspond to the pads at either end of each maze run. Excellent M&D quality. Heavy enough to stay put, but still easy to move around with the "user" in one arm. I am a little concerned about it's ability to sustain "user" attempting to pull themselves up on it. Ours likes it as much on it's side as upright as the beads fall differently, so you can get extra use out of it by rotating it rather than always having it on it's base." – B.C.
Let your little one re-create day-to-day grown-up activities with one of the best learning toys for toddlers and babies alike. The pieces can be separated for sitting play, locked in stationary position for standing babies, and made mobile for toddlers. Recommended for babies 6 months old to toddlers up to 3 years old.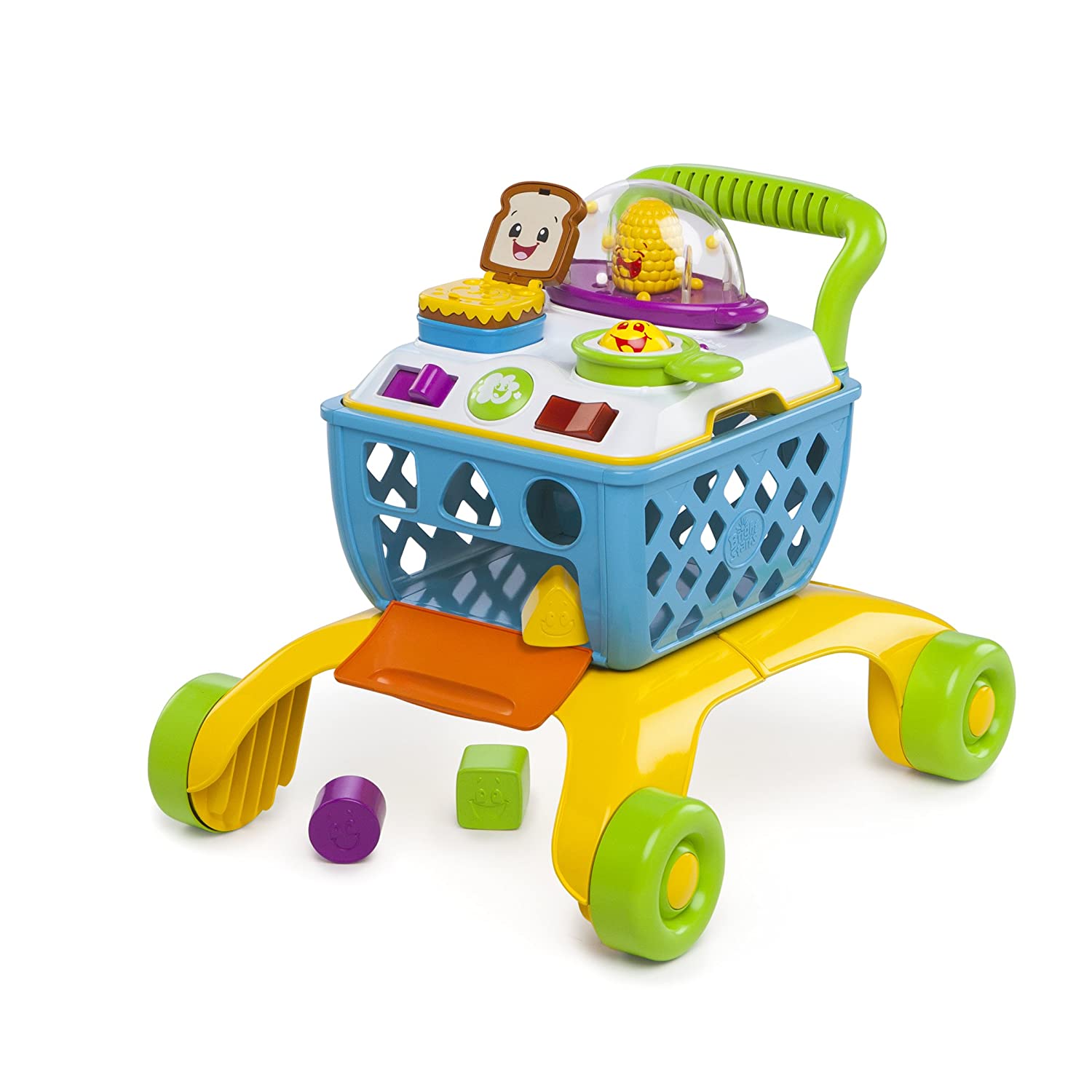 A Parent's Review:
"I bought this when my daughter was 8 months old and figuring out how to stand. Yes, it will flip over if a baby tries to pull themselves up on it, so I placed a 7-pound weight inside the cart (beneath the lid) which makes it very sturdy. She's now almost 10 months old and continues to use it to pull herself up and lean against it while she plays. When she doesn't need the cart to stand up, I'll remove the weight so she can push it around and learn how to walk. Its also worth mentioning that she loves playing with the activities on this cart and has yet to lose interest in it." – Mary
This fun bath toy set is one of the best infant toys to help babies learn about colors, numbers and animals. The set has six mix-and-match toys that help excite little senses and develop fine motor skills. Recommended for babies 6 months old and up.
A Parent's Review:
"Baby likes these toys in and out of the tub. The little animals are familiar because we have other FP baby toys and the repetition is nice. Hippo Tiger and Elephant are now common words. We sing Row Your Boat and baby enjoys watching me move the boat through the air as we sing. Baby likes to handle the animals but hasn't figured out the squeezing water part, but sure that will be fun later. I squirt them for baby for now and have no problem with mold, although I do completely empty them out after each bath. Baby enjoys the boats even more likes to chew on the bow and we also connect them and learn to count to 3 and "inside" & "outside" as we take and put the animals in and out of the boats. Recommend" – Macro Mama
Help your baby learn about colors, textures, and more while building the strength gained from partaking in the oh-so-important tummy time. It comes with accessories and settings to target five different developmental stages, from newborn to toddler! Recommended for 0 to 3 years old.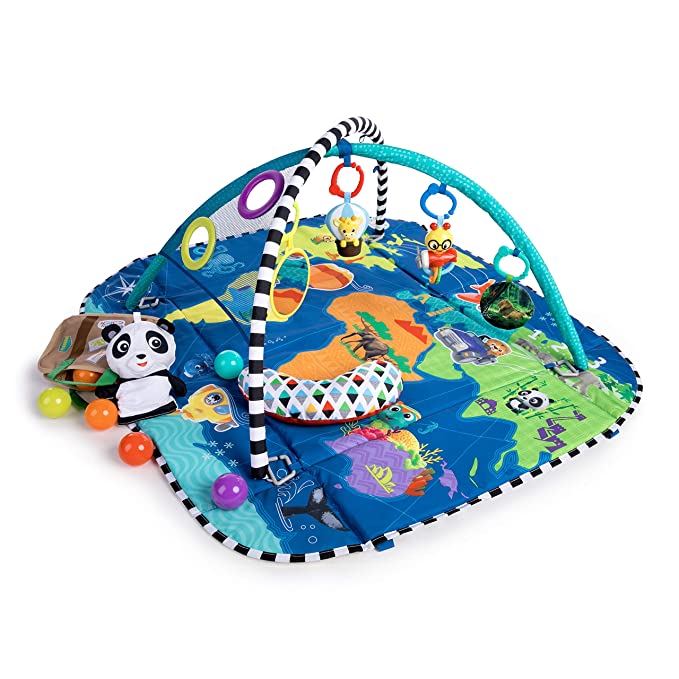 A Parent's Review:
"My 11 week old loves this! We looked at some of the "cooler" ones with wood and teepees but this had good reviews so went for it. It entertained her 45 minutes in the am and 20 min during her fussy evening time when usually nothing can console her! She actually enjoyed tummy time for once on the bolster looking at things on the mat. This purchase already paid for itself in the free time it's given mommy in just the 2 days that I've owed it!" – Jamiefay
What makes this one of our top baby toys? This plush ball has eight colors and patterns to help baby learn about colors and texture. It also has attached tags and a mirror to inspire creative play. Recommended for babies 6 months old and up.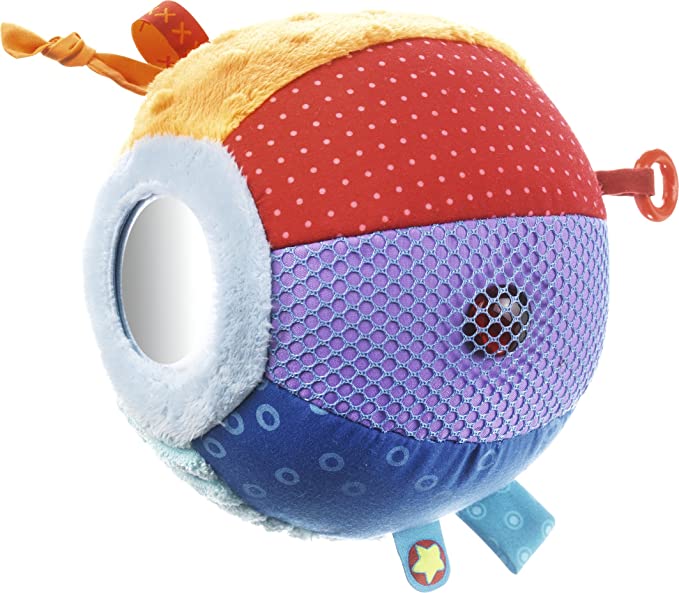 A Parent's Review:
"We got it for our granddaughter (8mo) who has lots of toys that make lots of sounds lights flashing etc. She took a while to notice this passive toy but now seems to go to it a lot. It is a very good toy for tactile interaction. So it is approved by our granddaughter!" – Joy
As your baby stacks different-colored rings on the elephant's trunk, it will call out different numbers, shapes, and colors to help your little one learn. When they're done stacking, they can push the elephant's tail to watch him sneeze and send the rings tumbling down! Recommended for babies 6 months old to kids up to 4 years old.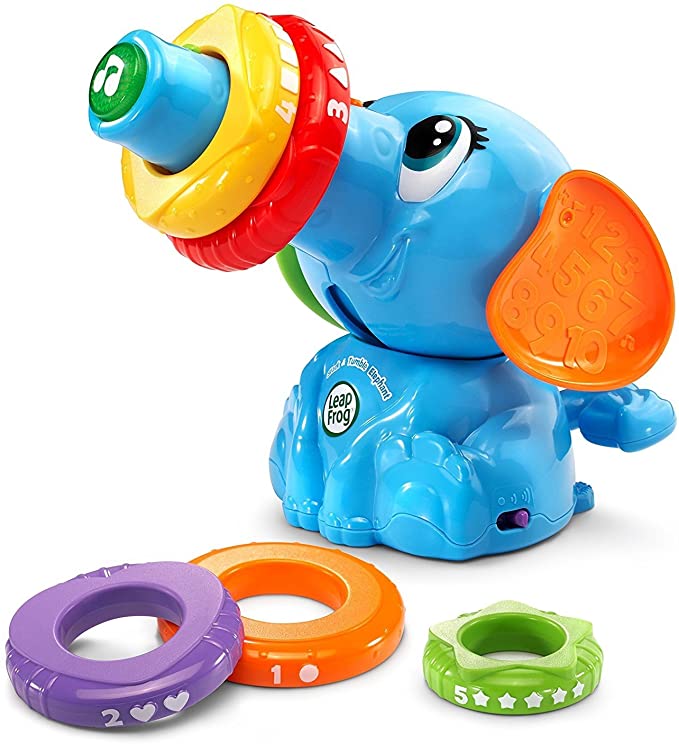 A Parent's Review:
"This is such a cute toy! My 6 month old doesn't do much stacking yet but he loves to watch me stack the rings and make the elephant sneeze and sing. He is teething and big on chewing everything right now… these rings are harder than the plastic Fisher Price and V-Tech stacking rings so it hurts him when he tries to chew them. I wish they were a bit softer." – Anonymous
Now, about your baby's brain…
Children are born learning. And what they learn in those first few years, and how well their brain develops, can change the course of their lives. Brains are built over time from the bottom up, like the foundation of a house.  So giving your baby the best start in life means helping her brain grow. And the best way to do that is through touch, talk, sight and sound, and especially through interactions that the experts call "Serve and Return". 
When your baby or young child babbles, reaches out, or cries, for example, and you or another caregiver responds lovingly with eye contact and a smile, gentle words or a hug, it actually builds neural connections in your little one's brain. In fact, more than 1 million new neural connections are forming every second in the first few years of life!  And those neural connections are like the bricks and mortar of brain architecture, supporting the development of communication and social skills, physical health, and early literacy and language skills that are important for later success in school, the workplace and the world!
Think of 'serve and return' as a lively game of tennis, volleyball or Ping-Pong. It's fun AND builds your baby's brain.   Check out these helpful tips from The Basics to get lots of ideas for how you can help your baby's brain grow.
And that takes us back to TQEE's mission. 
We're passionate advocates for ensuring Tennessee's children getting the best possible start in life. The first 8 years of a child's life provide the foundation on which all future learning is built – and that begins with newborns!
Unfortunately we have a lot of work to do. With roughly 2/3rds of Tennessee's third graders not proficient in reading or math, we've got to keep working hard to ensure our state's policymakers are prioritizing effective solutions that can better prepare children for success such as:
High quality affordable childcare
Investing in our teachers
Providing excellent pre-k programs
We need supportive, caring coalition members (like you!) to help ensure Tennessee's future is bright. Please consider donating to TQEE.
You might also be interested in: Serve and Return: How Child Development Starts at Home
Posted: March 27, 2020 | Updated: August 1, 2023
View All