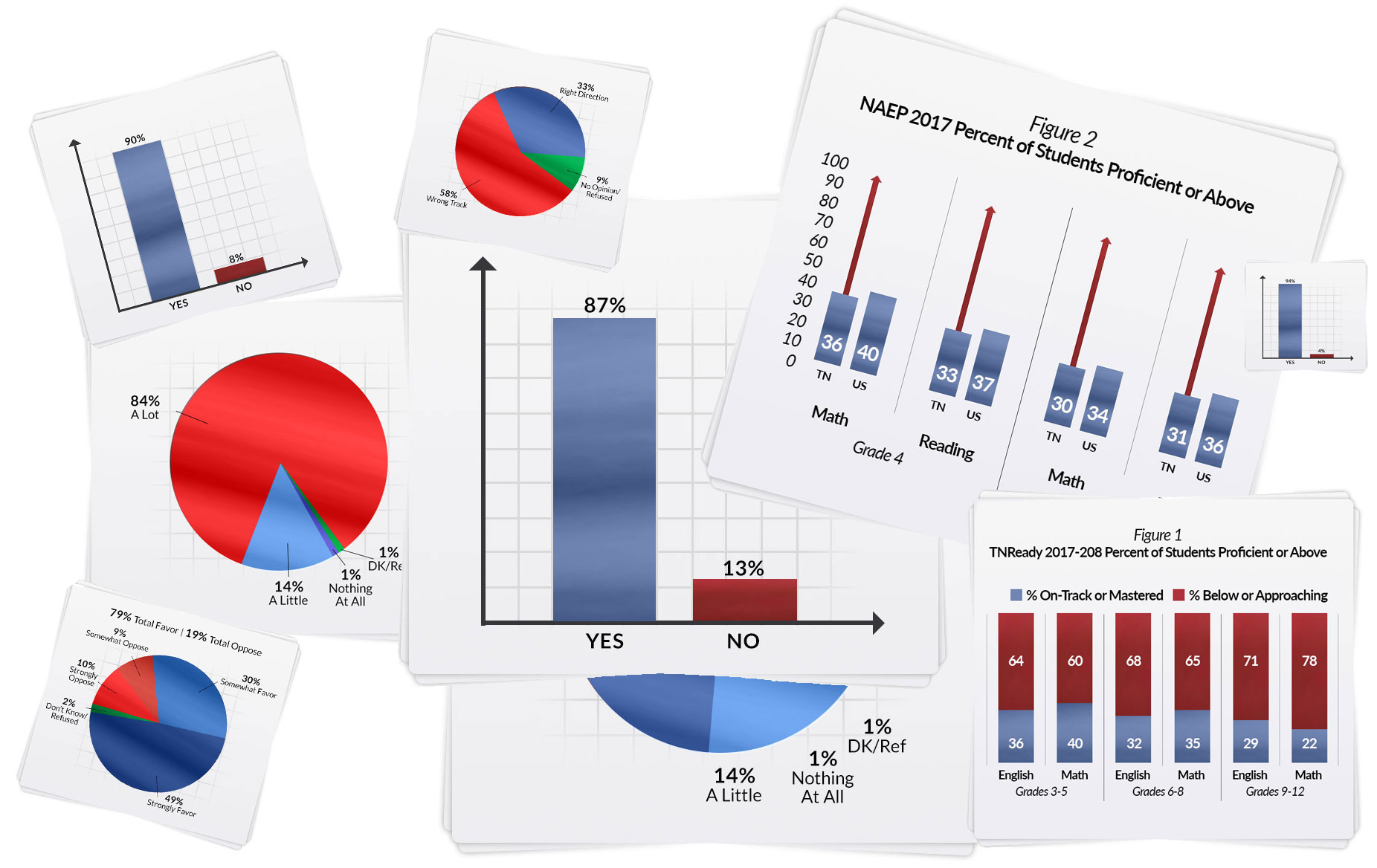 New poll of Tennessee voters shows overwhelming support for policy proposals to improve early learning outcomes birth to third grade.
In the current partisan environment, Tennessee Republicans and Democrats often agree on very little. But when it comes to education, they're strongly united in the view that the state's public education system is on the wrong track. They are also united in their support for prioritizing early education as a solution to better prepare children for success and improve student outcomes.
See article in The Tennessean here.
Seventy-two (72) percent of Tennesseans say that the public education system is not preparing children for the future. Tennesseans want change. Fully 93 percent of voters – including 92 percent of Republicans and 95 percent of Democrats – agree with the statement, "Early education, from birth to 3rd grade, provides the building blocks of all learning," and by wide margins support expanded investment in early years education for a stronger future, according to a survey of statewide voters commissioned by Tennesseans for Quality Early Education (TQEE). Those findings from a survey of 600 likely Tennessee voters, conducted Nov. 18-21, cut consistently across the state's political, demographic and geographic lines.
The number of Tennesseans who say that public education is moving in the right direction is a mere 33 percent and has declined in every TQEE annual survey since 2017.
"The mood is pretty clear – when it comes to educating our children, Tennesseans are increasingly dissatisfied with the status quo and they want to see change," said Mike Carpenter, TQEE executive director.  "Voters strongly support earlier investments in programs like Pre-K, early literacy and math education and child care, because they recognize the connection of those investments to giving kids a stronger start and improving education outcomes."
The survey was commissioned by TQEE and conducted by Public Opinion Strategies, November 18-21 (+/-4 percent margin of error.) The survey explored Tennesseans' opinions on public education and quality early education programming supported by TQEE and numerous state stakeholders to improve education performance.
The results illustrate citizens' broad and deep support for quality early education programs and investment.
Tennesseans across party lines agree that early education makes the difference
Nearly every Tennessean understands the importance of early education programs to prepare children for the future. Fully 93 percent of voters – 92 percent of Republicans and 95 percent of Democrats – believe that early education, from birth to third grade, provides the building blocks of all learning.
Voters want more Pre-K. A lot more.
By wide margins, Tennesseans support expansion of Pre-K for all 4-year-olds (94 percent); increasing funding for Pre-K (88 percent); higher investment for Pre-K classrooms for disadvantaged children (85 percent); spending for investment in improvements to Pre-K so that all classrooms are consistently high quality (69 percent); and expansion of Pre-K programs to counties that are economically distressed (91 percent).
Voters support investments in early literacy, math and "early workforce skills"
Ninety-seven percent of voters say Tennessee should invest in early literacy programs to ensure children can read by third grade, and 93 percent want to invest more to establish math proficiency by third grade.
What's more, voters clearly recognize the foundation for workforce readiness is laid in the early years.  Fully 94 percent support investments that ensure "early-workforce skills" in an educational setting to develop social-emotional skills that include problem solving, organization, cooperation and maintaining focus on tasks.
Strong backing for child care and home visiting to support school readiness
Ninety percent of voters believe child care has a major impact on a child's readiness to be a good learner when they enter kindergarten, and 82 percent favor increased subsidies so providers can hire more well-qualified child care instructors. A large majority (71 percent) say that Tennessee should use all available federal funds to expand quality, affordable child care options.
Tennesseans like the concept of home visiting programs to boost parenting skills, reduce abuse and neglect and help young children get ready for early learning classrooms. A strong majority (79 percent) believe that Tennessee should expand home visiting options for more parents across the state.
 "As the survey clearly reflects, we have a lot more work ahead, and it must be addressed as an urgent priority given the warning signs in some of the most important academic performance measurements. That Tennesseans are dissatisfied with the current condition of public education shouldn't be surprising when most of our students in grades three through 12 are not proficient in reading and math. It's unacceptable that by third grade, which is the benchmark for predicting a child's future academic success, two-thirds of students are far behind and many of them never catch up.
"While we have made progress, our state's performance ranks in the bottom half of all states. We can and must emphasize early education, birth through third grade, to improve academic outcomes and to ensure that more students are prepared for college, enter the workforce and have lifelong success."
You might also be interested in: Reading 360: Tackling Tennessee's Literacy Crisis
Posted: December 18, 2019 | Updated: August 1, 2023
View All