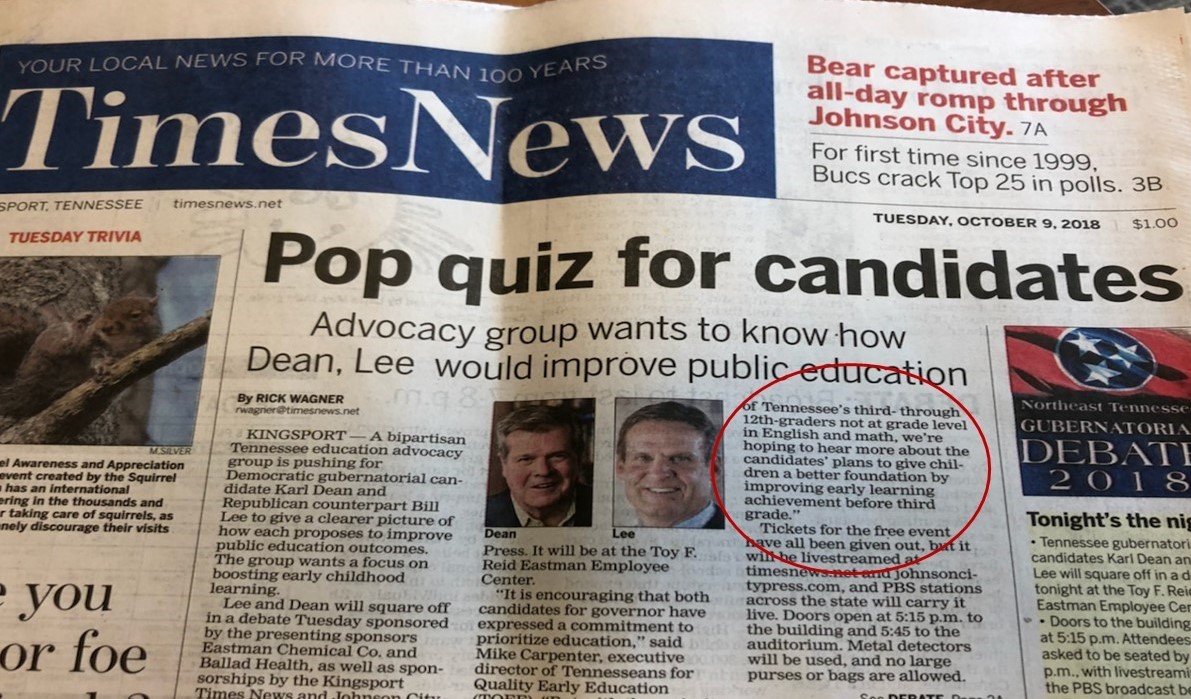 The candidates for governor debated this past Tuesday in Kingsport, and the Tri-Cities community sent a message they want Early Education at the top of the agenda.
The Kingsport Times News ran a front page article on the day of the debate citing local leaders urging the candidates to make early education a priority.
Beth Rhinehart, CEO of the Bristol Chamber of Commerce said, "Recruiting new businesses to our region depends on a skilled workforce. Development of essential workforce skills begins in the earliest years of a child's life when the brain is developing the most."
Likewise, Dr. Amy Doran, Early Childhood Coordinator of Kingsport City Schools noted, "It was heartening to hear in the first debate that both Mr. Lee and Mr. Dean acknowledge early education as the foundation. My work with high-quality teachers and programs in Kingsport City Schools has shown we need more, not less early education.  I am looking forward to hearing more about their plans for our community's young children."
"Communities in the Tri-Cities area – like all Tennesseans – want better education outcomes," said Miles Burdine, president and CEO of The Kingsport Chamber . "They support a robust system of quality education for children from birth to third grade to build on reforms that are working and to accelerate progress so that we can help all Tennessee kids get a smart start in life."
Thanks you to Beth, Amy, Miles and the Kingsport Times News for helping amplify local perspectives on the importance of prioritizing high quality early education in Tennessee.
#supportearlyed
by Mike, Lisa and the TQEE team
Posted: October 12, 2018 | Updated: August 10, 2023
View All