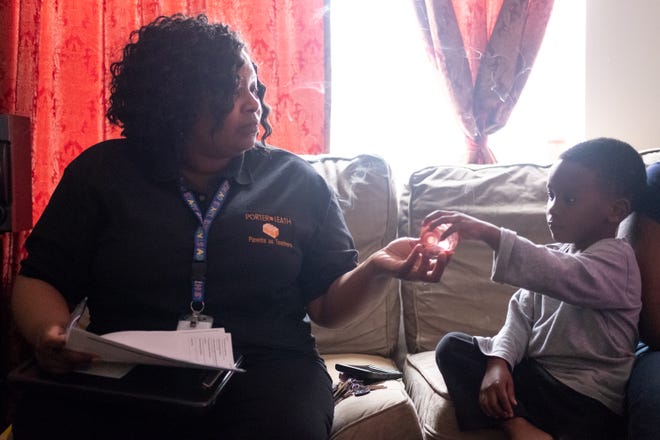 After three years, Cassandra Ruffin knows the first rule of visiting the Dennard family. "You cannot come into this home with only one book," Ruffin said. So although she's there specifically to check in on 3-year-old Ja'Mykal, she arrives at the Oakhaven town home with a bag of children's books for the boy and his two older siblings. 
The Dennard family's experience with how evidence home visiting program boosted reading skills and kindergarten readiness for young Ja'Mykal was shared in The Commercial Appeal's by reporter Jennifer Pignolet.
The three children sit on the edge of a tan couch and the carpeted living room floor, tearing into a picture book about a bumpy pumpkin and a Disney-themed alphabet paperback. Their mother, 33-year-old medical assistant Shante Dennard, helps Ja'Mykal turn the pages and reads aloud to him. 
It's that interaction that Ruffin wants to see between Dennard and her children. 
Ruffin is a parent educator with Porter-Leath, an early childhood organization in Shelby County. She's known the Dennard family since before Ja'Mykal was born. County. She's known the Dennard family since before Ja'Mykal was born. 
The family is part of a bi-weekly home visitation program called Parents As Teachers that provides social services and support to about 300 clients with young children, all done out of the client's home. Many families, but not all in the program, live below the poverty line.
Posted: October 11, 2018 | Updated: April 10, 2023
View All