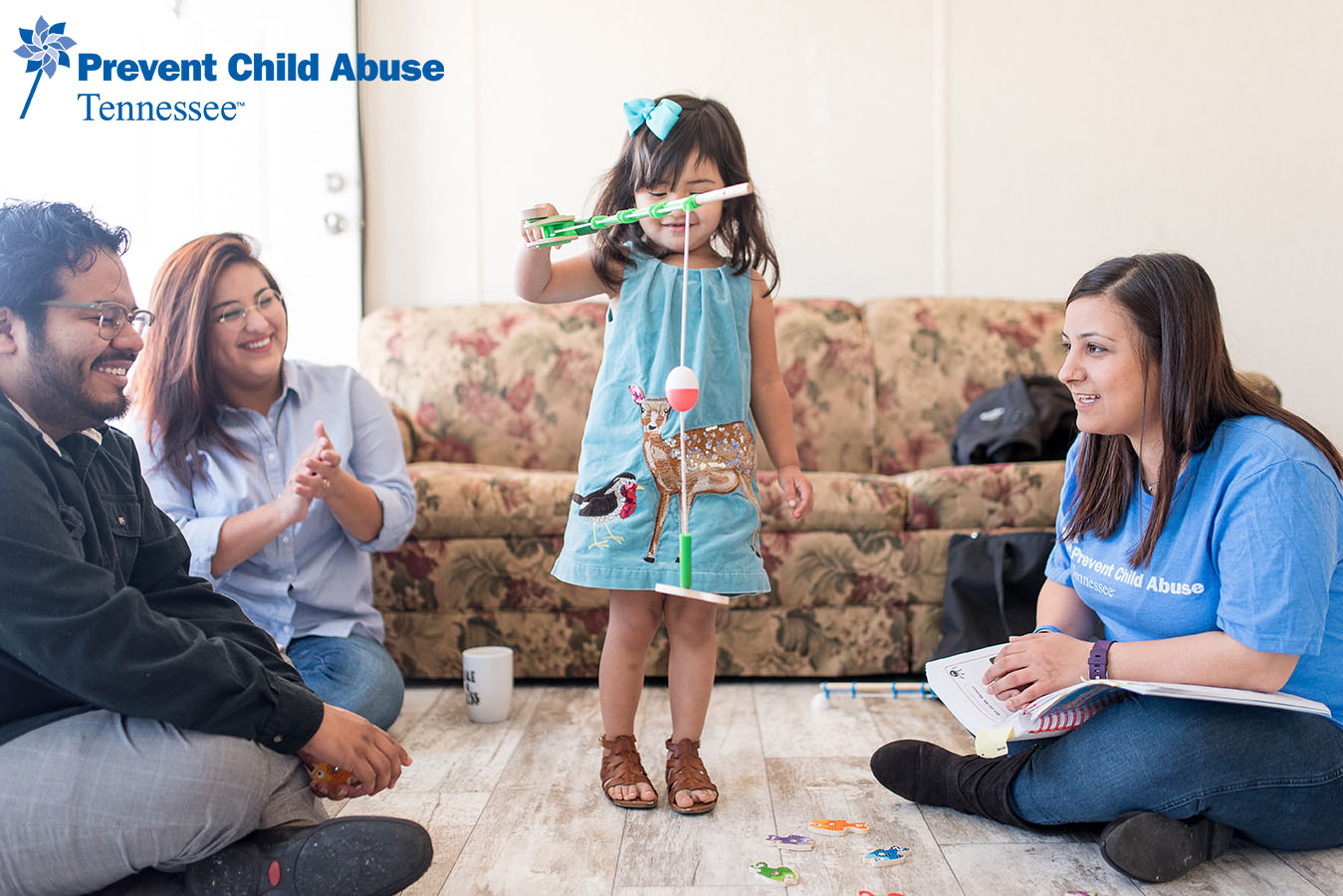 Itzel is protective of her mother today, forgiving her with words even though she didn't have the easiest childhood.
"My mom didn't know any better and she definitely didn't have anyone to turn to," she says.
Itzel's mother called her names and made her daughter feel unwanted and unloved. It's tough to grow up strong when you are neglected and told that you are a burden.
As a young adult, Itzel found support four years ago at a community baby shower on the Tennessee State University campus. Newly pregnant and "completely scared," she learned about Healthy Families, an evidence-based home visitation (EBHV) program from Prevent Child Abuse Tennessee (PCAT) designed to support parents from pregnancy through kindergarten.
Determined to be a better mother than her own, Itzel was attracted to an opportunity through Healthy Families to obtain strong parenting skills and to make certain her daughter has a bright future.
EBHV is nationally proven programming that is successfully applied in many Tennessee communities to assist young parents, improve their parenting skills, reduce abuse and neglect, improve health of parents and babies, and readly children for learning. EBHV is backed by compelling proof of strong ROI: a return of $5.70 in taxpayer savings for every $1 investment through reduction of costs for remedial education, public financial support, criminal justice and other societal impacts.
Through the course of her pregnancy, PCAT resources Nurturing Families and Healthy Families Tennessee provided in-home support that helped Itzel bond with her baby. Once a week, a PCAT representative came to Itzel's house to help monitor her daughter's progress, showing her how big Alia was growing while also counseling Itzel on what to expect once she arrived.
After Alia's birth, the focus of Healthy Families turned more toward the young girl's development, tracking progress and strengthening her bond with Itzel. For a new mother, every milestone presents challenges: Why is my baby crying? How will she learn to crawl? To walk? To speak? Dealing with development can be stressful and PCAT was there at every step along the way, from potty training to preparing Alia to begin school.
Through proven education and instruction from trained professionals, Itzel is now establishing a foundation for ongoing nurture of her child's physical, cognitive and emotional development. The earliest years of a person's life are foundational and long lasting.
Healthy Families is PCAT's largest and most intensive program, intervening at a time in a child's life when 80 percent of brain development occurs. This period is an essential building block for child success as it is fundamentally related to lifelong learning and health.
The nonprofit uses the Growing Great Kids curriculum to teach a wide array of topics, including child safety and all aspects of development. The evidence-based program has been proven to improve maternal, newborn and child health as well as reduce child maltreatment. And for Alia, now 4 years old, it's improved her readiness for school.
Itzel said the organization has made a difference in two lives.
"Without Prevent Child Abuse Tennessee and the support of my home visitor," Itzel says, "I know that my relationship with Alia would have been exactly like what I had with my mom. And I'm so grateful that it's not."
Healthy Families helped again when Itzel met her husband Carlos, with a visitor helping the couple learn how to co-parent effectively, ensuring that Alia's physical, social and emotional development continued.
"I think the biggest thing that I've learned from this program is how to develop trust between myself and Alia," says Carlos. "I didn't have that with my parents, and I think our relationship was negatively affected."
The result of all of the time invested in Alia's early years? She earned a scholarship to Overbrook School, a prestigious private elementary school in Nashville. Now she's on a path for success with a strong home to support her.
Mike, Lisa and the TQEE Team
You might also be interested in: Why Does Early Childhood Education Matter 
Posted: September 19, 2018 | Updated: June 27, 2023
View All