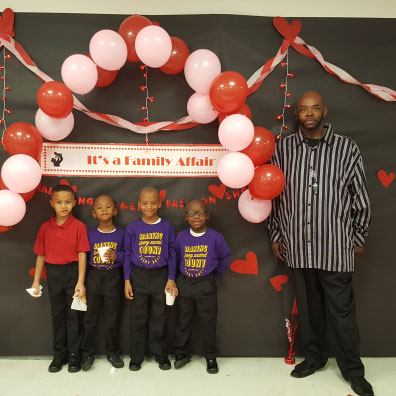 Charles Lampkin, a father of five, suddenly found himself as the sole parent of his five sons, with four of the them under the age of five. "I moved to Memphis from New York for a job and I did not anticipate being a single father, but those things happen and wound up with a 3 year old, a 2 year old, a 1 year old and one infant," Lampkin recalls. "I was in trouble and looking for a daycare but a friend of mine suggested Porter-Leath instead because they are a school."
Porter-Leath of Memphis, TN was founded in 1850 as orphanage. Over 100 years later, Porter-Leath switched its focus to children in foster care in the later stages of childhood. But far too often, interventions for these children focused on providing services well after problems started to arise. In 1999, Porter-Leath made a proactive approach to serve children at the beginning stages of childhood in order to lay a solid foundation for a child's future.
As the sole grantee for Early Head Start, current contractor for all Head Start services in Shelby County, and a Pre-K provider for several municipal and charter schools in the Memphis metropolitan area, Porter-Leath serves over 6,000 low-income children and their families from birth to age five with high quality preschool services. Porter-Leath works with an extensive and growing list of qualified partners to provide comprehensive early childhood services that meet the full range of needs of children and families. These services prepare young children for success in school and provide their families with a full range of integrated and intensive support services to help them develop new futures.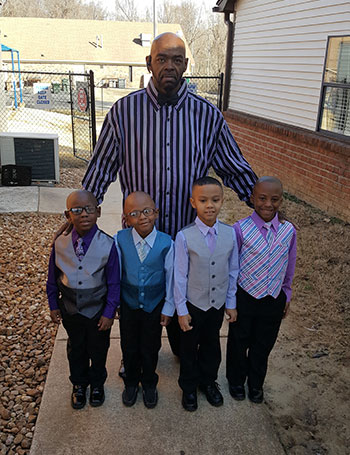 Four of Lampkin's sons attended Early Head Start and Head Start at Porter-Leath. "Porter-Leath was different for me because of the educational environment while a daycare would have provided just the basic needs for my children," said Lampkin. Porter-Leath's Preschool program strives to achieve measurable academic goals to insure students are ready for kindergarten on day one – academically, socially, and developmentally. To meet these goals, Porter-Leath uses a robust evidence-based curriculum and offers a dynamic array of health, disability, and nutrition services, all facilitated by the best-trained team of educators and family service providers.
"Porter-Leath was foundational for me because I saw what my children received and how that has prepared them for kindergarten. Now my second grader reads on a third grade level, my first grader reads on a second grade level, and my kindergartener reads on first grade level, that's an achievement and I'm very proud of these guys."
All Porter-Leath centers are accredited by the National Association for the Education of Young Children (NAEYC) and are three-star facilities as evaluated by the Tennessee Department of Human Services. For reference, there are currently 34 NAEYC accredited sites in Shelby County; Porter-Leath has eight of those. When asked who he credits to his children's early academic success, Lampkin says, "Half has to do with daddy, but half has to do with the foundation that came from Porter-Leath. Porter-Leath (also) teaches them socially how to get along with friends, friends that look like you and friends that look different from you." One of his boys learned how to speak Spanish from his classmate while another learned advanced math skills. "He might not have had that lesson from me at home if we were doing the basic learning at home because I wouldn't have thought of that."
Lampkin is happy that the Porter-Leath staff and leadership is committed to the mission of quality early education. "I believe that these educators here set out to hire good quality educators and are committed to these young people to see them get it one step at a time. My children have benefited tremendously from that. My kindergartener recently wrote a letter back to his Head Start teacher to say thank her and tell her that he was ready for kindergarten." Lampkin smiled saying, "He's ahead of the game, he is ready, his grades are indicative of that he is ready!"
You might also be interested in: Serve and Return: How Child Development Starts at Home
Posted: March 2, 2018 | Updated: August 10, 2023
View All