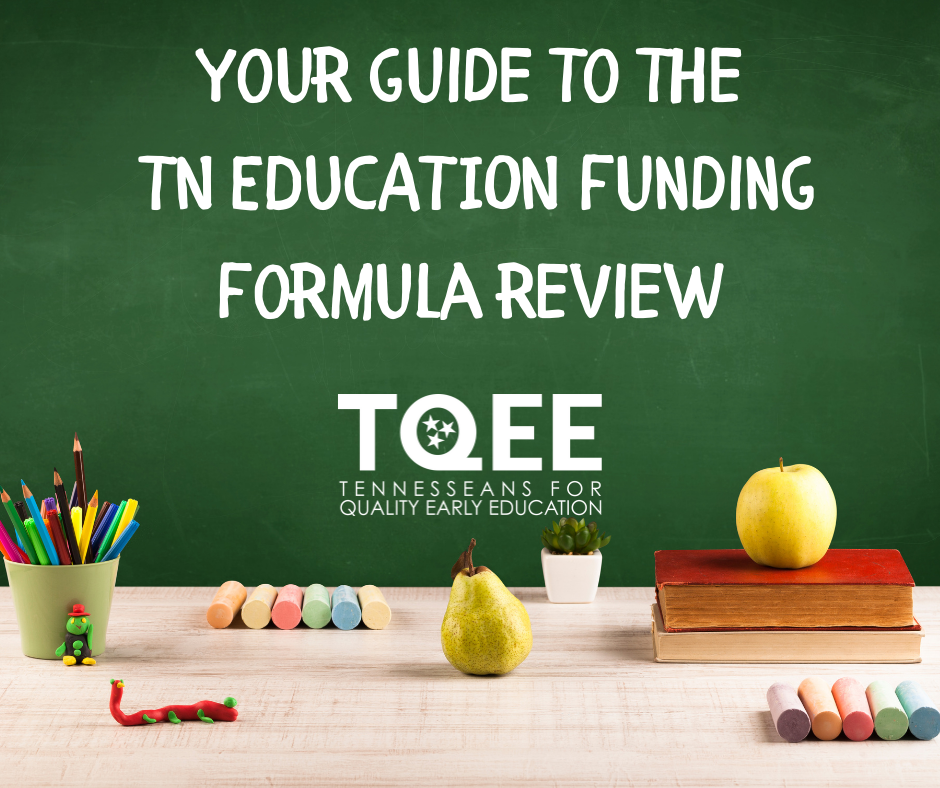 We'll update this post and alert our coalition via social media as new information becomes available. So, check back periodically over the next several months and be sure you're following us on Facebook, Twitter, Instagram and LinkedIn.
How it started:
On Oct. 8, Governor Bill Lee and Tennessee Department of Education Commissioner Penny Schwinn announced that the state will do a full review of the state's education funding formula and explore possibilities for a more student-centered approach that:
Prioritizes students over systems
Empowers parents to engage in their child's education
Incentivizes student outcomes
Ensures all students, regardless of location or learning needs, are served at a high-level
Reflects Tennesseans' values
Creates flexible funding that prepares students for postsecondary success
The state's current school funding framework, also known as the Basic Education Program (BEP), has not been meaningfully updated in more than 30 years.
How it's going:
A central steering committee and 18 subcommittees have been established to engage with the Tennessee Department of Education in exploring a new funding formula. A full listing of the committees and its members can be found at tn.gov/education/tnedufunding/. All associated committee meeting materials, including recordings and minutes, will be posted to that site as they become available. TQEE President and CEO Blair Taylor is serving on the Parent Choice and Voice Subcommittee, which will provide an opportunity for parents to have input, including on Pre-K.
The timeline:
The subcommittees will meet twice a month for the next three months and public input will continue to be gathered during that time as well. It is likely that following the deliberation and engagement process, the steering committee will make recommendations that will be reflected in the governor's 2022 legislative package.
How you can get involved:
All Tennesseans are invited to be involved in the process and encouraged to fill out a form to express interest in joining the discussion.
Eight regional public town halls will take place in person (and be livestreamed) between Oct. 27 and Nov. 30 to garner public feedback on the funding review. Find one near you and attend or watch via livestream.
Recordings of the town halls that have already taken place are linked below.
There will be other ways to engage, and we will post them here as they are announced.
View the public comments submitted so far. 
TQEE's point of view:
We enthusiastically applaud Governor Bill Lee and Tennessee Department of Education Commissioner Penny Schwinn for taking the much-needed steps to create a new student-centered approach to fund public education and for engaging key stakeholders and community members across the state in this important process.
The state's current Basic Education Program (BEP) funding framework is simply inadequate to close opportunity and achievement gaps and to provide all students with the high-quality education on which our state's future depends.
It is imperative that any new funding formula reflect the actual costs associated with a high-quality education for children from all backgrounds and zip codes, and that it differentiates based on opportunity gaps and special needs. Among the key considerations for the formula should be ensuring sufficient pay to attract and retain great teachers who are the heart of our education system; expanding the voluntary Pre-K program to allow every 4-year-old the option to attend; ensuring enough school nurses and mental health counselors to improve health and learning outcomes; and continued enhancement of programs that focus on early literacy, early math and early workforce skills. All these priorities are in line with what Tennessee voters overwhelmingly want too, as evidenced by the results of TQEE's recent annual voter survey.
While the success of our students requires a commitment to all grade levels, we would be remiss not to call out the particular importance of Pre-K through third grade. Research has repeatedly shown that the first eight years of a child's life are a critical development period, and third grade is widely acknowledged as a benchmark year that determines future academic success. Yet more than two-thirds of Tennessee's third graders are not proficient in reading or in math. When children aren't proficient by third grade, they tend to stay or fall further behind. Plus, they're four times more likely to drop out of high school and 60 percent less likely to pursue a post-secondary degree.
It will take more than money and a new funding strategy to address the education crisis our state currently faces, but if done right, this would be a monumental step forward. Through this process, TQEE looks forward to working alongside dedicated school leaders, elected officials, early education advocates, parents and other stakeholders to build a better educational foundation on which all children can stand, no matter what challenges or opportunity gaps they may face.
Posted: October 26, 2021 | Updated: August 10, 2023
View All