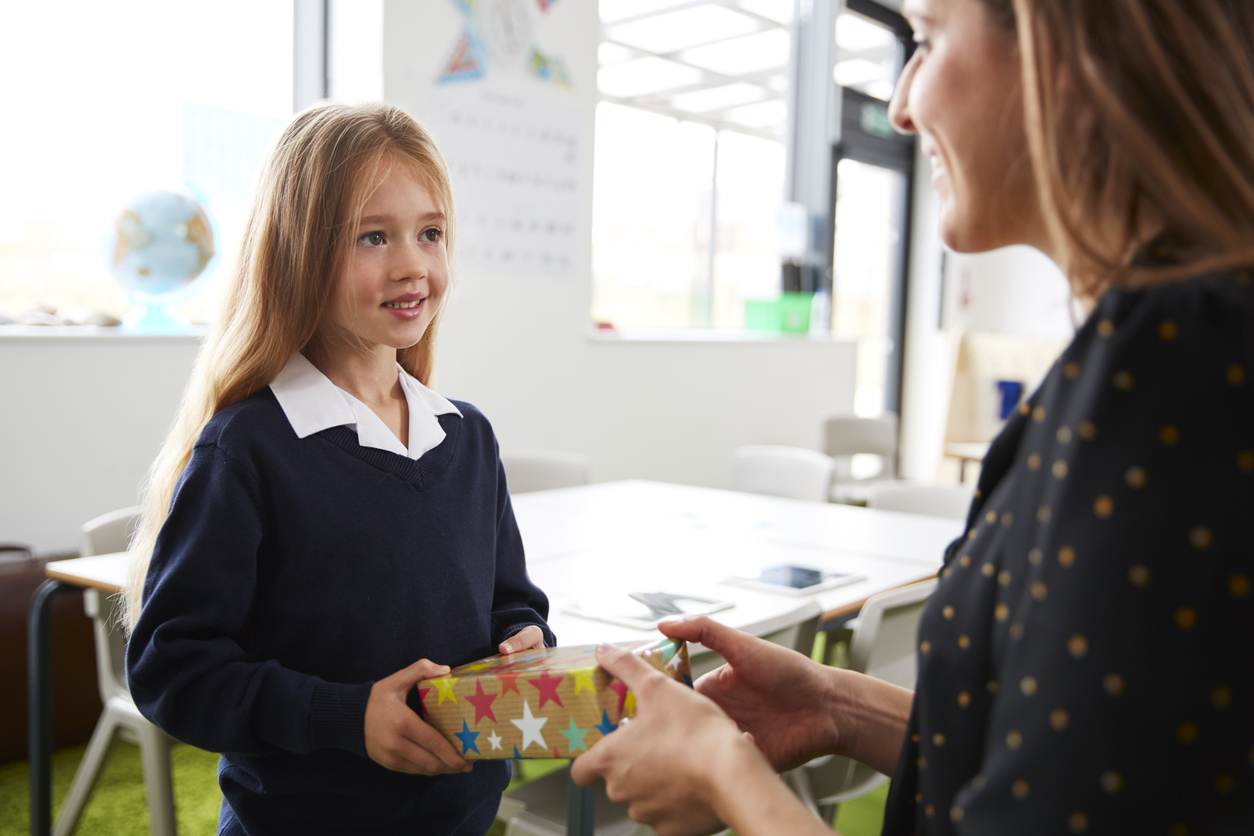 High quality teachers impact lives. We see it everywhere from the most advanced academic studies all the way down to the look on a child's face when that child begins to learn.
May 6-10 is Teacher Appreciation Week and something we always need to remember is that teachers should feel valued for all of the ways they are a positive force in a kid's life.
How do you do appreciate your child's teacher? We all know teachers need supplies and funds for special projects, but sometimes an expensive gift isn't necessary to show you care. The best gifts of appreciation often come from children themselves.  
One great way to involve your child in teacher appreciation is to help your child write a thank you note to the teacher, something that can be done at home. For kids who already have writing skills, it can be great practice in showing motor and language ability. And for preschoolers, dictating a note with parents helps literacy by representing sounds and symbols in a written form. Children love to illustrate too!
Writing a note and teaching appreciation helps a child learn to focus on the needs, perceptions, and ideas of others. Parents and caregivers can establish gratitude as a fundamental behavior in their children's lives that will provide a fully enriching, lasting impact.
According to the Harvard University Healthbeat, "Gratitude helps people feel more positive emotions, relish good experiences, improve their health, deal with adversity, and built strong relationships. For young children, gratitude is expressed in consistently saying 'thank you' to others, making thank you cards, and identifying things that make them feel thankful, such as a favorite toy or a visit from grandma.
Another way parents and their children could show appreciation is through a creative project that can express thee same sentiment as a thank you note while also stimulating a child's imagination. Talk with them about the things they like about their teacher and then channel it into a something a child can make: a picture, an art project, a craft, a necklace or beads, a sculpture with clay or play-doh, or a jar of their favorite things. The more heartfelt it is, the greater your teacher will appreciate it.
Lots of in-school ideas can have an impact as well. It could be something as simple as working with the principal to organize an applause parade in hallways as teachers head to their classrooms. Decorations can be effective, whether it's a bulletin board or a classroom door. Or even just giving them some free time with a coupon for covering their responsibilities in the drop-off/pickup line. The national Parent Teacher Organization website has a number of themed ideas, too.
Teachers spend their days in some of the most important work possible — developing our kids. It's important for them to understand how much parents and kids appreciate all of their hard work.
You might also be interested in: Serve and Return: How Child Development Starts at Home
Posted: April 29, 2019 | Updated: July 31, 2023
View All