Reading to your toddler is one of the best ways to stimulate their active mind and blossoming imagination. And it provides a critical boost for early language and social-emotional skills that form the foundation for their future success in school and life.
But finding the right books to read with your toddler can be challenging, with endless options available.
That's why our team thoughtfully assembled a list of popular and trending books that can keep you and your little ones engaged, excited, and learning.
We organized them into three categories: Classics, Counting, Emotions & Communication, with some falling into multiple categories and providing a super learning boost in addition to being good stories.
The good news is that you can get access to many of these and other books for FREE by enrolling in the Imagination Library and/or downloading Libby to access books from your local library.
But if you're inclined to buy them, your purchase will help our important advocacy work on behalf of young children and families here in Tennessee. Amazon will share a small portion of the proceeds with TQEE for any book purchased from the links below. If you decide to go that route, THANK YOU on behalf of Tennessee's youngest learners! You'll be helping us advocate for things like:
– High-quality, affordable childcare
– Investing in our early grades teachers, and
– Providing excellent Pre-K programs
Now, on to the books!
Popular Toddler Books – Classics
Timeless stories that many parents remember from their childhoods lend some of the best opportunities for you to bond with your toddler. By sharing something cherished and creating strong memories through these stories, you and your child will carry these memories for a lifetime.
What's it all about?
Where the Wild Things Are tells the story of a boy named Max, who is making mischief throughout his house. Max is seen throughout the book wearing a wolf suit, a king's crown, and a mischievous grin. After chasing the family dog around the house with a fork, Max is sent to his room without any supper by his mother. He then begins a magical journey, in which his room transforms into a new world, with creatures named the Wild Things, where he is soon made king. Max is in control of his life in the land of the Wild Things, but soon finds himself homesick and yearning to go back home to eat his mother's supper.
Why it's a favorite:
The main theme of the book is the power of imagination and the places it can take you. Max creates a new world in which he can control his own destiny and escape from reality. In this case, the alternate reality was in the form of his room that transformed into a far-off place, where the wild things are. In his imaginative world he can be whoever he wants to be and do whatever he feels like doing, with no boundaries or regulations. He is free to explore and see the world with his fellow "wild things", beyond just what is in his bedroom. Kids can relate to this desire for freedom and control since their lives are almost entirely constructed by adults. Parents can also relate to this story because it reminds them of their childhood and may bring up memories of a time when they too had vivid imaginations and did not have adult responsibilities. Parents can also take to heart that the book teaches children a healthy way to manage stress (escaping through imaginative adventures), as well as reminding children that home is where they are truly loved.
What's it all about?
A duck couple, Mr. and Mrs. Mallard, look for a place to live and raise a family. They settle in a pond at Boston's Public Gardens, but decide the place is too wild and crowded for babies so they search for a new home. They settle along the Charles River where Mrs. Mallard hatches eight ducklings. She prepares the children to live in the city, while Mr. Mallard flies out to explore the river. Mrs. Mallard and her ducklings must dodge the bustling traffic as they walk back to the Public Gardens. A kindly policeman halts traffic and calls for police back-up so the family can safely make their way home where they are reunited with their husband and father.
Why it's a favorite:
This book has been a classic for decades because of its universal theme of searching for and finding a home, a place where a family can feel safe and secure. Family stability is demonstrated in the care Mr. and Mrs. Mallard give to finding a home to start their family and in the way Mrs. Mallard nurtures her ducklings. The police officer's assistance to the duck family illustrates the importance of helping others in need, particularly those who are different from us and tend to get overlooked. McCloskey's story suggests stepping back from our busy pace and considering the needs of others.
What's it all about?
One Fish Two Fish Red Fish Blue Fish is a 1960 children's book by Dr. Seuss. It is a simple rhyming book for beginning readers, with a freewheeling plot about a boy and a girl named Jay and Kay and the many amazing creatures they have for friends and pets. Interspersed are some rather surreal and unrelated skits, such as a man named Ned whose feet stick out from his bed, and a creature who has a bird in his ear.
Why it's a favorite:
This book is another relatable classic that has engaged young minds for decades. In addition to the wildly imaginative settings and characters found in this and in many other Dr. Suess books, the repetitive phrasing and rhymes are important early language and literacy skills young children should practice hearing, recognizing and repeating as they become emergent readers. Rhyming words are an important part of learning phonics and developing oral language skills – two important skills areas that prepare them for preschool and kindergarten! Children delight in the rhythm and silliness of rhymes and will enjoy "reading" with their parents and maybe even coming up with their own rhymes!
Best Toddler Books for Counting
Some of the most popular toddler books are centered around counting – that is the counting of things, numbers, quantities, and differentiation between choices. There are as many approaches to these books as there are combinations of numbers that can be made, and finding the best guide is sometimes challenging. Parents love to watch their toddler learn, and these books give them the opportunity to share those moments.
What's it all about?
A small caterpillar emerges from an egg and begins eating everything in sight. Finally, it is no longer hungry and no longer small. The big, fat caterpillar builds a cocoon around himself and finally emerges as a beautiful butterfly. The Very Hungry Caterpillar is unique in its advanced but relatable vocabular and in the fact that the actual book contains holds that look like they were eaten by the caterpillar! Like most of Carle's books, it is illustrated with tissue-paper collages resplendent with color and detail.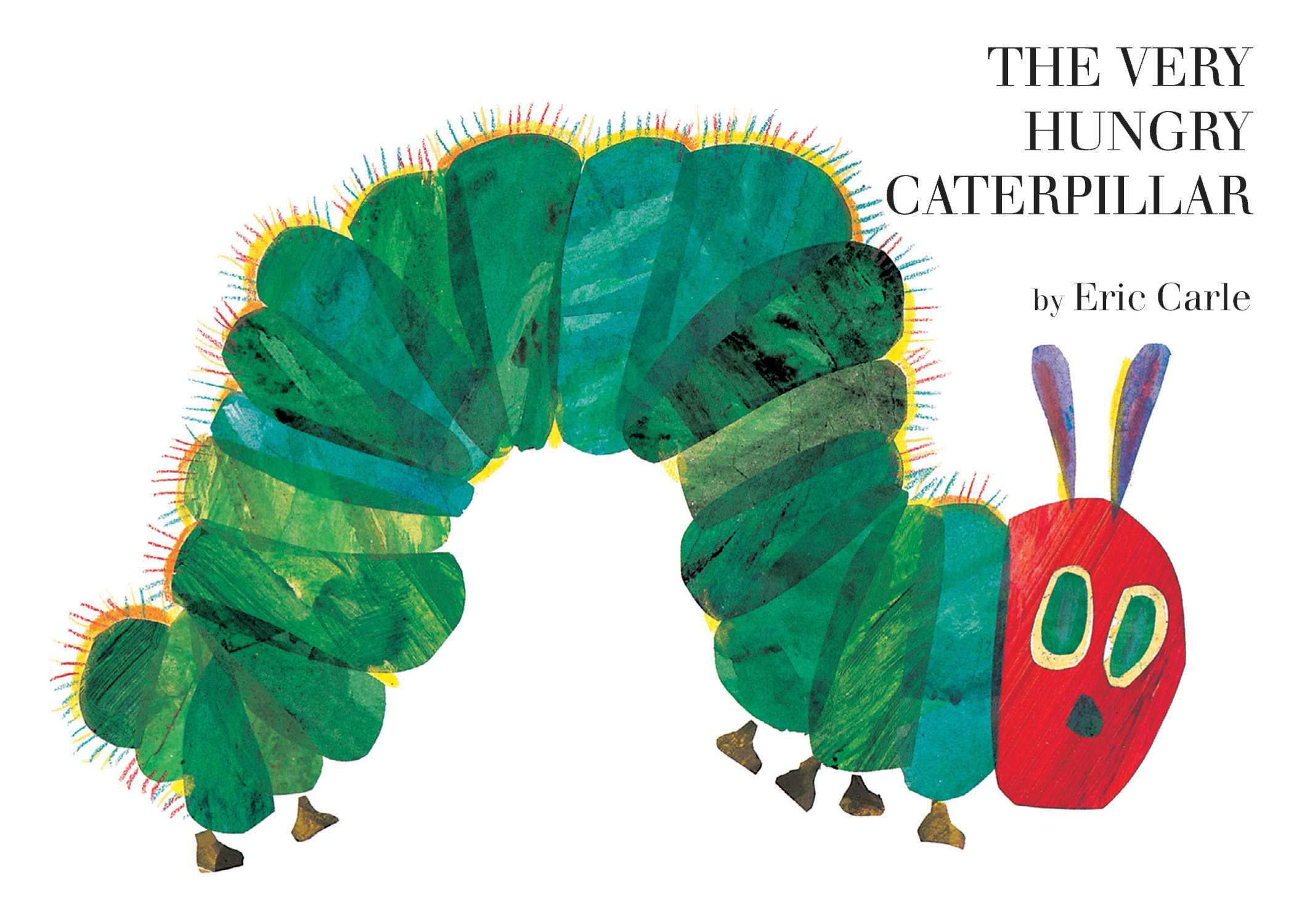 Why it's a favorite:
In addition to the bright, colorful artwork and captivating story, this book focuses on a major theme in the lives of young children: change and growth. Young children delight in stories that mirror their own experiences, especially when they deal with being small, growing bigger, changing, and becoming an important part of a big, mysterious world. Children see themselves in the growth of a (hungry!) caterpillar which then turns into a beautiful butterfly. Parents can appreciate the embedded learning about important science concepts including the life cycle of plants and animals.
What's it all about?
Ten Little Dinosaurs is a book about ten little dinosaurs that do bad things and then disappear once they get into trouble. The dinosaurs are modeled as children and then there are authority figures such as a police officer, doctor, ect. that tell the dinosaurs they can't do what they are doing. The things the dinosaurs get in trouble for are things a child would get in trouble for as well. The book is also written as what a children's song would sound like.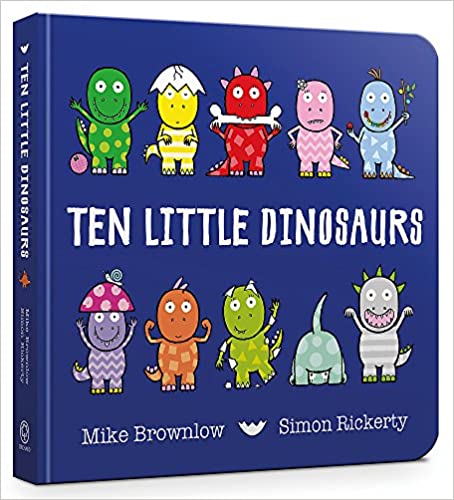 Why it's a favorite:
Children will enjoy the book's sing-song predictable rhyme and rhythm, and highly stylized illustrations. The book introduces counting skills and numbers which are included on each page to show the number of dinosaurs left. Additionally, each dinosaur page is devoted to a different color, which aids young children in color recognition. The plot and theme are relevant to children because the dinosaurs get in trouble for things a child would get in trouble for as well. This book shows that certain things are unsafe so you shouldn't do them, but that even if you get into trouble you can count on your family to be there in the end.
What's it all about?
An attractive slipcase containing three of Roger Priddy's bestselling small, chunky board books – First 100 Words, First 100 Animals, and Number Colors Shapes. The books are an ideal size for little hands and are perfect tools for building vocabulary and developing speech. Infants and toddlers will learn key concepts and words with these bright board books. Each book has 100 color photographs to look at and talk about, and 100 simple first words to read and learn, too. The pages are made from tough board for hours of fun reading, and the cover is softly padded for little hands to hold.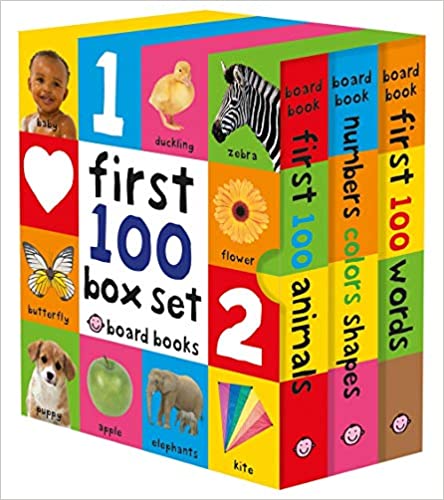 This Set Includes:
First 100 Animals, Numbers, Colors, Shapes, First 100 Words
Emotions & Communication
Toddlers are beginning to feel a full spectrum of emotions and have a very difficult time understanding and expressing these new feelings and moods. The following suggestions portray and explain difficult and complex emotional messages, as well as social communications.
What's it all about?
The Feelings Book vibrantly illustrates the wide range of moods we all experience. Kids and adults will appreciate Todd Parr's quirky intelligence as he pays special attention to the ever-changing, sometimes nonsensical emotions that we all feel. Targeted to young children first beginning to read, this book will inspire kids to discuss their multitude of feelings in a kid-friendly, accessible format, told through Parr's trademark bold, bright colors and silly scenes.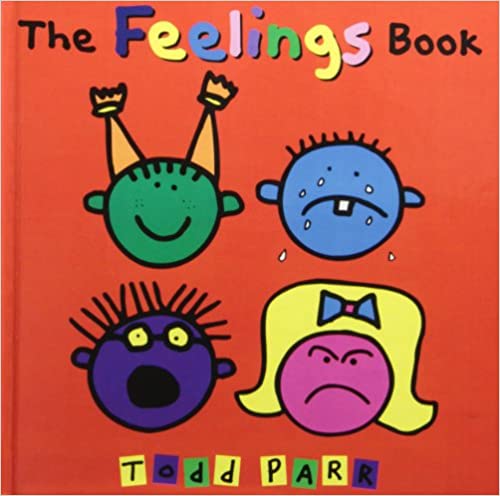 Why it's a favorite:
This book provides a fun and easy opening for you to talk with your children about feelings, which helps them to gradually understand their own emotions – an important skill for school and life! Megan Tingley, a Goodreads.com contributor sums it up with this review: "A surprising and silly book about moods, featuring such musings as "Sometimes I feel like staying in the bathtub all day", and "Sometimes I feel brave", illustrated with bold, bright, childlike drawings. Perfect for parents and teachers to use as a springboard for discussion about feelings."
What's it all about?
Here is the story of a little raccoon who confronts the first day of school and needs reassurance. School is starting in the forest, but Chester Raccoon does not want to go. To help ease Chester's fears, Mrs. Raccoon shares a family secret called "the Kissing Hand" to give him the reassurance of her love any time his world feels a little scary.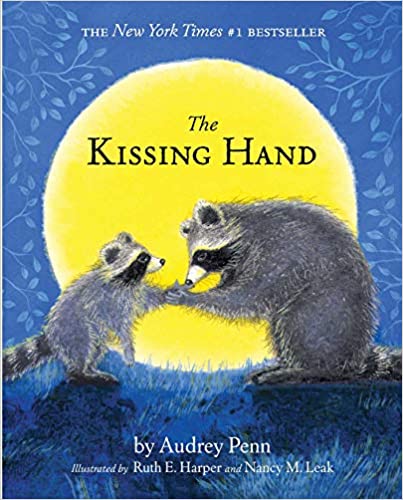 Why it's a favorite:
The Kissing Hand is a meaningful and relevant book for any child taking the plunge into preschool or school, with endearing illustrations that are as soothing as the story. The mother raccoon finds an unforgettable way of communicating the message that everyone needs to hear: a parent's love can reassure any creature when their world feels a little scary.
What's it all about?
From brave and bold to creative and clever, Emily Winfield Martin's rhythmic rhyme expresses all the loving things that parents think of when they look at their children. With beautiful, and sometimes humorous, illustrations, and a clever gatefold with kids in costumes, this is a book grown-ups will love reading over and over to kids-both young and old. The Wonderful Things You Will Be has a loving and truthful message that will endure for lifetimes.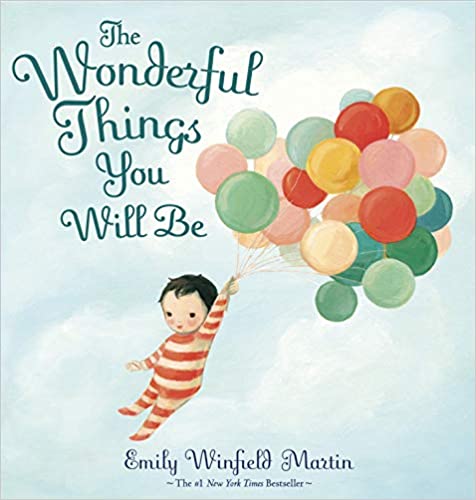 Why it's a favorite:
The Wonderful Things You Will Be is a touching ode to childhood that expresses the hopes parents have for their children. Young readers will be drawn to the lively settings and delightful details in scenes featuring kids and animals dressed up in the garb of different occupations and frolicking in sometimes dreamy landscapes.
What's it all about?
This beguiling bedtime tale features a young rabbit and his parent. Searching for words to tell his dad how much he loves him (and to put off bedtime just a little bit longer), Little Nutbrown Hare comes up with one example after another ("I love you as high as I can hop!"), only to have Big Nutbrown Hare continually up the ante. Finally, on the edge of sleep, he comes up with a showstopper: "I love you right up to the moon."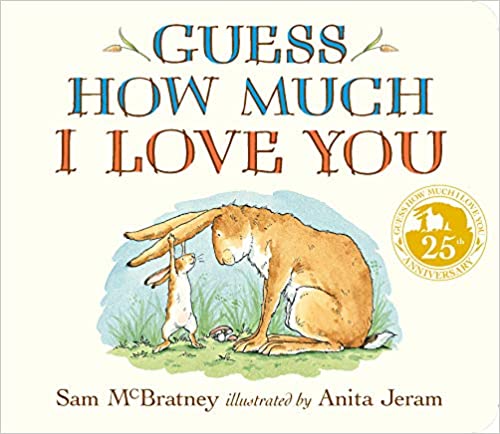 Why it's a favorite:
Effused with tenderness, McBratney's wise, endearing and droll story is enriched by the near-monochromatic backdrop of Jeram's pen-and-wash artwork, rendered earthy tones of moss, soft brown and gray for a visually quieting effect just right for that last soothing tale before sleep.
We hope you and your toddler enjoy these books as much as we do!
Toddlerhood can be a trying time for any family raising a little one. Their curiosity is higher than it has ever been, with every new experience being a fully involved adventure. Their minds are open and absorbing every detail of the world around them, even if they have yet to be able to comprehend it.
The best toddler books are filled with more than bright pictures and small words on a heavy board paper for texture and durability. They are crafted to be more than entertainment, but with genuine and inspiring purpose. These thoughtful tales often provide the introduction to essential human qualities such as empathy and kindness, education and  learning, encouragement and imagination, respect and emotions, and they can do it in such subtle and imaginative ways, that you and your toddler both grow from the experience of sharing them.
There are innumerable benefits to reading with your toddler. Studies have shown that children who begin hearing a lot of language do better in school. And for those children in toddlerhood, one of the best ways to hear language is by being read to. According to a review by Kandia N. Lewis, Phd from kidshealth.org, "Reading to toddlers sets the foundation for later independent reading. Reading problems can be challenging to fix when discovered in elementary school. But many reading problems can be prevented if reading starts in the toddler and preschool years." "Reading aloud is also an important way to help kids move from babyhood to toddlerhood. Between the ages of 1 and 3, toddlers have celebrations and challenges. So it can help for them to hear stories about other kids and how they faced their fears about what's under the bed or learned how to use the potty," she also explains. 
Reading with your toddler has almost countless benefits for yourself as well as your child. In a world as fast paced, digital, and distraction filled as the one we live in, time spent between parent and child without interruptions is even more important and cherished. Tunde Wackman, a writer for Mother.ly, mother of two, and lifelong reading advocate writes, "Reading is our daily escape to a magical world—together. It's an opportunity for snuggles and meaningful, deep (sometimes spirited) discussions. It is our chance to see the world from their perspective, but also to impart a bit of worldly knowledge to them in a safe environment." She continues, "Reading is one of my earliest memories of childhood and my own parenting career thus far. As new parents, my husband and I read countless studies on the benefits of reading aloud to babies. So, we started reading to our children even when they were tiny infants."
The first 8 years of a child's life provides the foundation on which all future learning is built – and that includes toddlers! Our team at TQEE are passionate about prioritizing early education in Tennessee, which includes championing effective solutions such as:
High-quality, affordable child care
Investing in our teachers
Providing excellent pre-k programs
A prosperous Tennessee starts with a strong foundation. Please consider donating to TQEE now to improve early education.
Posted: April 6, 2020 | Updated: November 23, 2022
View All